Being fit isn't the only prerequisite to being a good hockey player. Over the years, many players have had long and productive careers while not working out or eating as well as they potentially could have.
And there have also been gym rats and fitness fanatics who haven't been able to stick in the NHL. However, with the premium that is placed on fitness, strength, nutrition, and recovery in today's professional sports world, players that don't take great care of themselves are falling behind. NHL players need to work extremely hard both in the summer and during the season to not only stay in shape, but to keep up with the rest of the league.
Reporting to camp "in the best shape ever" is something that every player needs to do every single year.
And there is a fine line between fitness and fatigue, as well. Canuck winger David Booth was told to tone down his training a bit after the Canucks acquired him last year – the club found that Booth was working so hard off the ice that it was affecting his on ice performance. Many NHL players have reported to training camp after a summer of training with too much excess muscle, and this has negatively impacted their performance (especially players who rely on skating and speed).
Training can also be the difference between a pretty good player and a great player. Sidney Crosby and Steven Stamkos are both elite talents, but they aren't the only talented hockey players on the planet. Both of them are very dedicated and committed in the gym and in the kitchen, as they both play close attention to what they put in their body. Stamkos's work with Gary Roberts each summer is a huge reason for his emergence as the premier goal scorer in the world. 
Crosby has been working with trainer Andy O'Brien since he was 14 years old, and he is widely regarded as one of the fittest players in the league. Being fit for hockey is a lot different than being fit for other sports. Hockey players have to be very strong, but relative to their body weight. Agility, speed, and coordination are also important. There aren't many sports that compare to ice hockey in terms of the number of physiological demands placed on the body.
And even if you are a rec/beer league hockey player (or you don't play hockey at all), you stand to benefit from training like an NHL player. Training like an athlete is a great way to gain muscle, get stronger, and lose fat, all the while remaining healthy and injury free. And the commitment, dedication, and consistency that each of the following athletes show with regards to their training is very motivational.
There are dozens of NHL players who are known for their impressive fitness regimes – let's take a look at a few of them:
Steven Stamkos
Stamkos's off-season training with Gary Roberts has become the stuff of legends – Roberts was a teammate of Stamkos when he was scrawny rookie with the Lightning a few years ago. Roberts took the young phenom under his wing with regards to training, fitness, and nutrition. Stamkos has reaped the rewards of many summers of hard work – he has added a lot of muscle, and he added an extra gear or two to his already impressive skating stride. He has become the most dominant scorer in hockey, too. A few summers of hard work isn't going to make any top prospect into a 60-goal scorer, there has to be athletic ability and talent in the mix as well.
However, skill and work ethic together is an unbeatable combination, as Stamkos has proven. And his success has driven many other young stars to Gary Roberts for training and nutritional guidance, including James Neal, Jeff Skinner, Cody Hodgson, Chris Tanev, Stephen Weiss, and Steve Downie.
Stamkos has completely bought in to the lifestyle necessary to succeed in the NHL, and that comes from having a specific and personalized training program, a will-power with regards to clean and healthy eating, and a dedication to consistent improvement.
Kris Letang
Pound for pound, Letang may be the strongest player in hockey. At 5-11 and 200 pounds, he gives up height and weight to almost every single forward he comes up against in the NHL. However, thanks to his brutally tough off-season training regime, he is able to use his strength, quickness, and hockey sense to play a shutdown role for the Penguins. Letang started working with Montreal-based trainer Jonathan Chaimberg back in 2011, and the results were impressive:
Moving forward, Letang wants to pair the endurance he's built with his quickness and agility, which he's also been focusing on in his workouts.

"Before I focused more on being powerful and building strength," Letang said. "To play the way I play, I think it was important to work on my conditioning because I'm a guy who has a good first stride and strong skating. So I want to be able to skate my whole shift. I want to be able to have quick feet, to be able to jump in the play and never get tired after a 30-second shift."
The split squats Letang demonstrates at the 1:15 mark are difficult enough with just body weight – he has 280 pounds of external load as well:
Letang has found a new training partner in recent years in Montreal, too. Canadian MMA fighter Rory MacDonald and Letang have been training together, as they are both phenomenal athletes. There are obviously specific strength and muscular focuses for each athlete and their respective sport, but hockey and MMA are similar in terms of the overall conditioning an athlete needs to be in, and how a player needs to get as strong as possible without adding any excess weight or bulk.
Being strong is also very important for Letang because he is undersized relative to most other NHL defensemen. He has battled a few injuries in recent years due to his aggressive playing style, and he needs to keep his body in top shape at all times to combat this.
Letang and MacDonald can be seen training together starting at the 12:30 mark:
Henrik Zetterberg
Swedes are known for their impressive work ethics (Mats Sundin, Daniel Alfredsson, Peter Forsberg, and Nicklas Lidstrom are all tremendous examples of this). Zetterberg is one of the fittest players in hockey, and he is one of the best overall players, too.
I wouldn't recommend starting out your training program with the above move, but it does highlight how impressive Zetterberg's overall fitness level is. He is combining so many things in the above move – strength, power, balance, agility, coordination, proprioception… you name it and he is using it.
Henrik and Daniel Sedin 
The Sedin twins took over a decade to emerge as superstar talents after entering the NHL as teenagers back in 1999, but for Canucks fans it was well worth the wait.
Each summer the twins return home to Sweden to train, and their dedication to fitness and health enabled them to take positive steps forward into their 30's, at a time when most other NHL players begin to slow down and experience a decline in production.
They have gotten much bigger, stronger, and faster over the years, and their improvements with regards to skating should be a lesson to all young hockey players who aren't the fleetest of foot – with hard work, skating is something that can be improved upon significantly.
Uphill rollerblading while holding a weight plate – sounds fun, doesn't it?
Zdeno Chara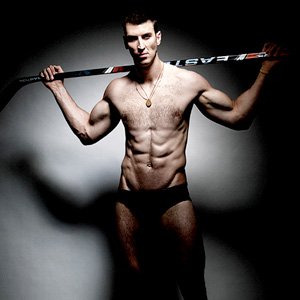 At 6-9 and 260 pounds, Chara is one of the most intimidating athletes in the sporting world. He is extremely durable, tough, and smart, and although he turns 36 soon, he should be able to play elite hockey well into his 40's.
At the Bruins strength testing session, he did 31 consecutive wide grip pullups. Chara is known around the league as a workout fanatic. "He is the most driven person I have ever seen to be the best," his agent, Matt Keator, says.
31 consecutive pull-ups is an impressive feat for any human being, but it is even more impressive considering how long Chara's arms are and how much weight he has to pull up each time. Chara also focuses a lot of his attention on a clean diet:
Chara is known for his discipline, and especially when it comes to his nutritional habits. He like his meats lean (ideally, rabbit), his potato baked (without any salt, butter, or sour cream), and his veggies steamed (no dressing). He will rarely, if ever, have alcohol (when he does it' only one glass of red wine, and will only put caffeine into his body once every three weeks with one cup of cappuccino.)
Chara is a fitness freak, and he has the time to train extensively thanks to his profession.
Chara puts in 6-7 hours of training a day, which consists of cardio, weight training, agility exercises, hockey techniques, speed skating drills, film work, and conditioning exercises. Even after games, Chara will work out for an extra hour or two, working until well beyond midnight and keeping his fiancee in the wives' room waiting for him to finish. Former teammate Marian Hossa of the Ottawa Senators said this about Big Z to NHL.com, "When he arrived in Ottawa, it was work, work, work. No one worked harder than 'Z.'
While the average Joe can't train like Chara (nor should he ever need to), it is always inspiring to read stories about the dedication of pro athletes to their craft.
Sidney Crosby
Crosby's trainer sat down with me to talk last summer, and the bulk of our interview revolved around Sid the Kid. On what makes Crosby so special:
His vision is very special, specifically his ability to track moving objects, but I think the characteristic that stands out the most is his lack of complacency.  In 12 year of working with him, he's never missed a workout, and he's never given anything less than his best effort.  He has a remarkable way of bringing his "A" game on a daily basis, which requires tremendous focus, determination, and mental toughness.  He's extremely bright and very serious about his performance.  He's also a fierce competitor, and takes advantage of his ability to intimidate his competition.
Crosby "got it" from a young age. He has been working with O'Brien since he was 12 years old – he knows his body, he knows where he needs to get better, and he knows how to get the most out of his teammates. Crosby isn't tall (he is listed at 5-10 or 5-11), but he is incredibly powerful and strong – he has to get his jeans custom made to fit his massive legs into them (a common problem among elite hockey players).
Martin St. Louis
One major reason why the 5-7 St. Louis has carved out an impressive NHL career for himself has been his dedication to fitness and living a healthy lifestyle. Like Chara, St. Louis has been able to maintain a high level of performance well into his late 30's (and at the age of 37 he is off to a very impressive start in Tampa Bay this season).
He spends his summers training with several other NHL players at Prentiss Hockey. He credits working with a trainer as a major reason for his on-ice improvements:
"I used to train longer on my own, but I was training like an amateur," says St. Louis. "Now I'm here for an hour, but that hour is intense and simulates a hockey game. You get to rest between shifts, but when you go, you go hard."
An impressive performance of power, strength, and conditioning:
Jaromir Jagr
Jagr is still playing in the NHL at the age of 40 because he takes such good care of his body (and because his passion for the game still burns). He trains harder than most of his teammates, some of whom are almost half his age. And just as he learned from the veterans on his team back in the early 1990's, Jagr has passed his work ethic down to the likes of Claude Giroux and Brayden Schenn in Philadelphia, and Dallas hopes he has the same impact on Jamie Benn this season.
"When I came into the league with Pittsburgh, I liked to work out, but I didn't know how to work out," he told the Daily News. "Paul Coffey told me, 'You're going to do everything I do.'

"You should have seen those crazy bastards working after games and practices. It was sick how they worked. (Ulf) Samuelsson, Kevin Stevens, Rick Tocchet, Coffey. They were all insane."
There are many other NHL players who work extremely hard to get in top shape and stay there. Chris Chelios and Rod Brind'Amour were two of the fittest players during their NHL careers.
As I said at the beginning, being fit isn't going to guarantee NHL success. But it is a necessity to have any hopes of success in today's game. And even if you don't play hockey and go to the gym only a few times a week, hopefully some of the stories above have inspired or motivated you, and you can learn a lot by watching how the pros train. Obviously you won't be training fix or six days a week for hours at a time, but focusing on overall health from a long-term perspective, instead of trying to diet or bulk up for a certain date in mind without any real planning or goals, is the way to create and sustain long-lasting fitness improvements.
If you are interested in getting stronger, losing fat, learning to eat better, or simply want to get in better shape, drop me a line here: