Cole Harbour, Nova Scotia is a town of just over 25,000 people. Yet somehow it has produced the greatest hockey player on the planet as well as the greatest teenage hockey player on the planet. Is there something in the water? Sidney Crosby maintains his spot as the top hockey player on the planet after capturing another Art Ross Trophy. Nathan MacKinnon dazzled fans with an unbelievable first round postseason performance. Did the 18-year-old phenom crack the top 10?
 Read on to find out who the top 50 NHL players are (from value standpoint*).
*Without context, the term 'value' has many meanings. For the sake of these rankings, it is in terms of trade value. I'll now go into detail on what that means.
John Tavares and Steven Stamkos both battled serious injuries in 2013-14. Claude Giroux came on strong at the end of the season after a slow start. Ryan Getzlaf played himself back into the elite player category while Henrik and Daniel Sedin struggled mightily under the (lack of) direction from John Tortorella. And after another season filled with equal parts offensive production and dreadful defensive play, can the Washington Capitals still build their team around Alex Ovechkin?
I foolishly left off Patrice Bergeron from the 2012 rankings, but didn't make any omissions last year that were as glaring. I'm not sure if that is due to any improvement on my part or just a stroke of luck, but as we all know a lot can (and does) change in the hockey world in just 12 months.
Just as with last year, I want to start off by acknowledging a few websites that were of great assistance. Stick taps to Behind the Net, Hockey Abstract, DobberHockey's Frozen Pool Tools, Hockey Analysis, and of course CapGeek.
My original inspiration for these rankings came from Grantland's Bill Simmons, who has been publishing his NBA trade value rankings for close to a decade now. At the end of the day, ranking players is extremely subjective. I expect disagreement and look forward to gaining a new perspective on a player (or two or three). I don't watch all 30 teams play an equal amount, and like all sports fans I am subject to my own biases. And borrowing more from Mr. Simmons, I relied upon the following set of criteria when compiling this list:
Contracts matter.
All else equal, the lower the salary cap hit, the higher the trade value. I looked primarily at the cap hit and not the actual salary amount or signing bonus amount when evaluating players. The fact that Shea Weber will receive a check for $13 million on September 1st of this year (and one more in 2015, as well) is largely irrelevant to his ranking. And the fact that the annual cap hit of Ryan Nugent-Hopkins jumps from $975,000 (plus bonuses) to $6 million is very relevant.
The entry level contract remains an incredibly valuable asset in hockey, and smart organizations don't utilize their young talent until they are ready. Just look at Detroit with Gustav Nyquist this season. Nyquist was probably "ready" for the NHL out of college, but he is now an impact player after spending two important years developing in the AHL.
Thanks to the Lockout 3.0, NHL clubs are now allowed retain salary in player transactions, which makes overpaid players more movable than before (thus increasing their trade value).
Age matters.
With age comes experience, but in a sport like hockey skaters typically peak between the ages of 23 to 27. Defensemen and goaltenders skew a little older. Some players are still able to be productive well into their 40s, but there aren't many Teemu Selannes or Ray Whitneys out there. I was careful not to overrate youth or potential while compiling these rankings, as we continue to see elite young players experience the typical early-career ups and downs. Just look at Nail Yakupov or Jonathan Huberdeau as two recent examples.
Team depth charts are (largely) irrelevant for these rankings.
Pretend you are starting a team from scratch and go from there. For example, the Montreal Canadiens would not value Henrik Lundqvist over Ryan Getzlaf or Jamie Benn as they already have Carey Price as their starting goaltender, and the Pittsburgh Penguins would not place as much value on centers as they would a defenseman.
Positions matter.
Goaltenders aren't as valuable in today's trade market as comparable defensemen or forwards, and this won't be changing any time soon (unless the NHL decides to increase the size of the nets). There are only 30 NHL teams and probably 50 to 60 capable starting goaltenders in the hockey world. There simply aren't enough open positions for them all to fill. Goalies who are traded very rarely generate a return that is comparable to their true worth. The Sabres did a great job maximizing the trade value of Ryan Miller at this past deadline, but the fact that he was an impending free agent helped in that regard significantly.
Forwards and defensemen are valued relatively equally, but there are factors that do come in to consideration. Typically it is easier for a young forward to make an immediate impact in the NHL as there usually isn't as much position-specific learning necessary. Defensemen often take three or four years to really figure things out. Just ask the Tampa Bay Lightning about Victor Hedman.
The list runs in reverse order.
The team with the 31st overall player would probably say yes to a trade involving the 30th overall player, but they would say no to a trade involving a player with a lower ranking. Obviously in the real world any transaction would depend on the team's playing style, depth chart, and organizational goals, but those are all being held out of the equation for the sake of these rankings.
As I wrote above, a lot can change in a year. Players get hurt or regress or surpass expectations or are traded or sign new contracts or retire. Or none of the above. The Columbus Blue Jackets didn't have a player on this list last year, but that has changed in 2014. Both the Calgary Flames and Buffalo Sabres are once again shut out from the top 50, although Flames defenseman Mark Giordano is a very honorable mention.
2014 Honorable Mentions
As mentioned already, the entry-level contract is one of the most valuable assets in the NHL. Having a rookie making a million (or less) while contributing allows a team to spend its scarce cap dollars elsewhere. Here are the best entry-level players who didn't crack the top 50 – Dougie Hamilton (Boston Bruins), Sam Reinhart (Buffalo Sabres), Brandon Saad (Chicago Blackhawks), Nick Bjugstad, Jonathan Huberdeau, Aaron Ekblad, and Aleksander Barkov (Florida Panthers), Jonathan Drouin and Ondrej Palat (Tampa Bay Lightning), Sean Monahan and Sam Bennett (Calgary Flames), Evgeni Kuznetsov (Washington Capitals), John Gibson (Anaheim Ducks), Mark Scheifele (Winnipeg Jets), and Ryan Murray (Columbus Blue Jackets).
Daniel and Henrik Sedin – Vancouver Canucks
2013-14 was a disaster of a season for many of the Canucks, including Daniel and Henrik. John Tortorella's system worked in Vancouver about as well as the bike lanes do. All of his top offensive players struggled. Henrik missed his first game due to injury in over a decade. His 50 points was his lowest offensive output since 2003-04. Daniel still doesn't look to be the same player after taking that vicious elbow from Duncan Keith back in 2012-13, as the former Art Ross winner was outscored by the likes of Ryan Garbutt, Jamie McGinn, and (sorry Canuck fans) Mason Raymond. Ouch.
Ryan Kesler – Anaheim Ducks
The good news – no major off-season surgery for Kesler this year. The bad news – Kesler had his worst offensive season since 2007-08. We were able to get an exact value for Kesler this summer – Nick Bonino, Luca Sbisa, and a 1st round draft pick. But there were extenuating circumstances (Kesler would only waive his no movement clause to go to Anaheim or Chicago). Kesler turns 30 this summer and probably doesn't have any more 2010-11-calibre seasons left in his body, but he is still one of the better two-way centers in the game. He will be surrounded by much better talent in Anaheim than he was with Vancouver, and his offensive numbers stand to benefit.
Martin St. Louis – New York Rangers
Snub him once, shame on you. Snub him twice… trade him to New York. Citing various reasons, St. Louis demanded a trade out of Tampa Bay to New York. GM Steve Yzerman did a great job generating a solid return for the Lightning considering he was only able to negotiate with one team. St. Louis turns 39 this June, but he should be able to join the crew of hockey players who carry on elite play into their 40s. In addition to being a really good player, St. Louis has an unrivalled work ethic away on and away from the rink.
Henrik Zetterberg – Detroit Red Wings
One of the best playoff performers of this generation is on the wrong side of 30 (Zetterberg turns 34 this October), but he still has a lot of hockey left in him. In addition to holding the title of team captain, Zetterberg's versatility is irreplacable in the Detroit lineup. He can still be counted on for close to a point-per-game when healthy, but can his health hold up until the 2020-21 season? Zetterberg's cap hit of approximately $6 million per season is carried forward until then.
Kris Letang – Pittsburgh Penguins
Letang is one of a handful of defensemen who can change the outcome of a game with his skating and offensive instincts. However, he finds himself on the outside of the top 50 looking in, due almost entirely to the stroke he suffered this past season. It isn't uncommon for a professional athlete to return from a stroke (just look at New England Patriots linebacker Tedy Bruschi), but the Penguins owe a lot of money and a lot of term ($7.25 million per season for the next eight years) to a player with a huge red flag.
Mark Giordano – Calgary Flames
The Calgary Flames are no longer directionless. The team has been stuck in no man's land over the past few seasons, which is a truly awful place for a professional sports franchise to be. Too good to land a top draft pick but not good enough for the playoffs – the Flames have iced a ragtag collection of veterans with a few stars sprinkled in. However, they now have a clear focus  in mind with Brian Burke and Brad Treveling at the helm. Those two want the Flames to play 'Alberta hockey.' It has been almost 10 years since either of the Alberta teams were relevant (unless you count draft lottery day as relevancy), but Giordano will be a huge part of whatever return to prominence the Flames have. How important is he to Calgary?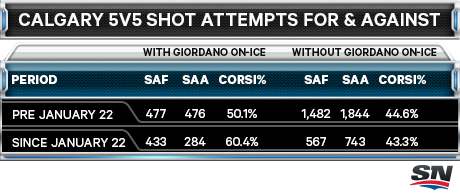 Giordano is a do-it-all defenseman who flies under the radar. And at $4 million per season for the next two years, he is also one of the biggest bargains in hockey.
Justin Faulk – Carolina Hurricanes
The talented American blueliner has yet to break out offensively at the NHL level (32 points in 76 games in 2013-14 was a new career high), but he has quietly developed into a rock solid defensive defenseman. Faulk is only 22 years old and is already established as a top pairing blueliner. His rookie contract expires this summer, and his cap hit will increase from $840,000 to $4.83 million. He still has the potential to be a bargain at that figure, but he has to continue making positive strides – and that isn't always guaranteed with young defensemen.
Cam Fowler – Anaheim Ducks
Fowler is a great example of the difficulties with projecting out young defensemen. After a stellar season as an 18-year-old rookie in 2010-11, Fowler took a step back in 2011-12, and another step back in the lockout-shortened season of 2012-13. The former Windsor Spitfire is one of the best skaters in the game, but he appeared to have lost all confidence with and without the puck from 2011 to 2013. However, he looks to be back on track after a strong 2013-14 campaign. Fowler may never be a 50-point offensive star, but his overall game is miles ahead of where it has been at any previous point in his NHL career.
Gustav Nyquist – Detroit Red Wings 
While Detroit's scouts (deservedly) receive a lot of credit for some of their amazing late round finds over the years, their AHL coaching and development staff deserve just as much – if not more – credit. Nyquist was a star at the University of Maine, but the Red Wings let him work on his game for two years in Grand Rapids before putting on the winged wheel. Nyquist is slippery like Datsyuk and he competes like Zetterberg – he has one year left on his rookie contract, and the Red Wings will want to lock him up well before it expires. Don't expect him to score on close to 20 percent of his shots for the rest of his career, but he is no flash in the pan.
Kyle Okposo – New York Islanders
Okposo was definitely one of the 50 best players in the NHL this past season, and he is signed to a very (very – $2.8 million per season through 2015-16) reasonable contract. So why didn't he crack the list? Prior to this season, Okposo's career high in goals and points was 24 and 52, respectively. His effort and work ethic seemed to come and go in stretches. That all changed in 2013-14. From start to finish, there weren't many forwards in the NHL who were as consistently excellent as Okposo was. If he can carry that play forward, expect him on the list next year.
Jordan Eberle/Ryan Nugent-Hopkins/Nail Yakupov – Edmonton Oilers
The Oilers wasted three years of Eberle on his rookie contract – he now makes $6 million per season. The Oilers wasted three years of Nugent-Hopkins on his rookie contract – he now makes $6 million per season. The Oilers, thankfully, have one more year of Yakupov to waste before he needs a new contract. All three are elite young talents. Yakupov's trade value will never be lower. Eberle had a decent season but more should be expected from him now that he has a few years under his belt. The pretty toe drags are great, but he needs to show improvement elsewhere. Nugent-Hopkins is playing catch up after major shoulder surgery a few years ago. He will likely get back on track as a future top line center, but that will take some time.
Keith Yandle – Phoenix Coyotes
What do Ryan Suter, Kevin Shattenkirk, Brooks Orpik, John Carlson, Justin Faulk, Paul Martin, Cam Fowler, and Ryan McDonagh all have in common? They all made the US Olympic team for Sochi, and they all finished the 2013-14 season with less points than Yandle. Yandle's lacking defensive game is never far from the conversation, but he is one of the most consistent offensive threats from the back end in the league. He hasn't missed a game in five seasons and is still only 27 years old. For whatever reason his name continues to make the rounds on the trade block.
John Carlson – Washington Capitals
Carlson is one of the better two-way defensemen in hockey. In 2013-14, no blueliner played a higher percentage of his team's shorthanded ice time than Carlson did for the Caps. Carlson and his partner, Karl Alzner, logged the toughest minutes for the Capitals and did a pretty good job on an otherwise sub-par defensive group. Many in Washington believe that Carlson may one day make Mike Green expendable (and the Matt Niskanen overpayment only clouds things further), but right now the Capitals seem intent on developing his defensive game more than his offensive one.
Eric Staal – Carolina Hurricanes
It has been over five years since Staal reached the point-per-game mark in Carolina. He is one of the best playoff performers of this generation (43 points in 43 games), but his regular season production isn't where it needs to be for him to crack the top 50 – especially with two more years at $8.25 million per.
And now, let's get to the top 50. The number inside the brackets is the player's respective 2013 ranking.
Cruising USA
Four Americans dominating in different ways
50. David Backes – St. Louis Blues (Not Ranked)
Backes is one of the most well-rounded players in the league. He is tough and physical, a great leader, and also capable of dominating with his offensive ability. He's got two years left on a very reasonable contract (an annual cap hit of $4.5 million). He recently turned 30 years old and has settled in as a 50-60-point player who adds even more value with his intangibles – toughness, defensive play, face-off ability, and leadership. Backes just needs to steer clear of Brent Seabrook when he is facing the boards.
49. Joe Pavelski (Not Ranked)
From 2008 to 2012, the underrated Pavelski averaged 25 goals per season with the Sharks. He had a solid lockout-shortened 2012-13 campaign too, scoring 16 times in 48 games. But few in the hockey world expected what Pavelski delivered this past season – 41 goals and 79 points in 82 games. Only Alex Ovechkin and Corey Perry found the back of the net with greater regularity. He and Logan Couture (who will be featured in a bit) are the present and future of the Sharks after taking the torch from Joe Thornton and Patrick Marleau over the past few years. Pavelski doesn't wow with his speed or skill, but he thinks the game better than most. He has a knack for getting to the open ice and finding the back of the net. Will he score 41 goals again? Probably not (his 18.2 shooting percentage screams regression). But that shouldn't detract from what was an unbelievable season. He would rank higher on the list if his new extension (five years, $6 million per season) wasn't kicking in.
48. Max Pacioretty (Not Ranked)
Guy Lafleur may not be a Pacioretty fan, but the speedy American winger is arguably Montreal's best goal scorer since Lafleur patrolled the wing. Pacioretty lit the lamp 39 times during the regular season (good for fourth in the entire league), but many fans in Montreal will remember his inconsistent post-season performance. After a nightmare injury a few years ago, Pacioretty is starting to come into his own as a leader in Montreal. Will Lafleur's comments linger throughout the summer? One thing is for certain – don't expect anything less than a full effort from Pacioretty when the puck is dropped. He is one of the fittest players in hockey and is put through months of gruelling off-season work at Prentiss Hockey Performance. He also has five years left on one of the most cap-friendly deals in the league at $4.5 million per season. Oh, and Lafleur was wrong. So very wrong.
47. Jacob Trouba (Not Ranked)
The best young defenseman in hockey lived up to the massive hype during his rookie season with the Jets. Trouba finished the season with 10 goals in 65 games, but more importantly logged important minutes (and a lot of them at 22:26 per game) and was regularly matched up against the opposition's top forward unit. His per-game ice time was good enough for 44th among all players in the league – indicative of a top-pairing defenseman. The 20-year-old Trouba has two years left on his rookie deal, and he will undoubtedly be Winnipeg's best defenseman by the end of it – if he isn't already.
46. Patrick Sharp (Not Ranked)
Philadelphia trading giving Sharp to the Blackhawks almost a decade ago has to be one of the most lopsided trades in recent league history (going back to the Flyers was Matt Ellison, who spent this past season with Zagreb Medvescak of the KHL). Sharp has four 30+ goal seasons since 2007-08 and was a member of Canada's 2014 Olympic team that captured Gold at Sochi. He can play wing or center and is a quietly effective two-way forward. He is also one of the best shooters in the game. He plays in the shadows behind some pretty talented teammates, so a lot of what he does so well doesn't earn him the recognition that he deserves.
45. Pavel Datsyuk (50)
I said this last year, but Datsyuk is definitely not the 45th best player in hockey. Few of his peers possess his hockey IQ. Few possess his strength on the puck. And none possess his stickhanding ability. However, he turns 36 this summer and has missed significant playing time due to injury in three of the past four seasons. He recently re-upped with the Red Wings for three more years (and at $7.5 million per season, the Red Wings appear to be thanking him for several cap-friendly deals in the past), so luckily we hockey fans will get a lot more of this:
44. Milan Lucic (Not Ranked)
The most intimidating forward in hockey has proven he can do a lot more with his hands than use them to mash faces (although his handshake etiquette has a ways to go). The Vancouver native has three seasons in which he has scored at least 24 goals. His playoff numbers (61 points in 96 games) are very solid as well. There are few players in the league who cast more of a shadow over the rink when they are on it than Lucic – he hits to hurt and makes his presence felt with regularity. He continues to improve and evolve as a player each season – I saw a lot of him during his stellar career with the WHL's Vancouver Giants and never figured he would develop into anything beyond an intimidating fourth line presence. His success to date is a testament to his work ethic and to Boston's ability to develop players.
43. Jeff Carter (36)
One of the best scorers in hockey has discovered there is more to hockey than just the offensive zone under Darryl Sutter in Los Angeles. Carter has always been an impactful player, but his stretches of strong play in Philadelphia were inter-spliced with periods of indifference. Carter may not eclipse his career-best mark of 46 goals again but he is a lock for 25-35 goals each season. His ability to jump back and forth from wing and center also boosts his value. He's at his offensive best on the right side where he has more room to get his lethal wrist shot off, but he is a better overall player at center. He proved that once again during the recent postseason run playing in between rookies Tanner Pearson and Tyler Toffoli.
42. Nicklas Backstrom (23)
Backstrom should be near the top of the scoring race each season. He is one of the strongest players on his skates in the entire league. He plays with the best goal scorer in hockey, and he has phenomenal hands and vision. However, the case study in organizational dysfunction that has been the Washington Capitals over the past five years seems to have gotten to him. After putting up 101 points in 2009-10, Backstorm has hoevered around the point-per-game mark since. His cap hit ($6.7 million per season through 2020) is reasonable for what he brings to the table, but he is too talented to not get back to Art Ross contention. Barry Trotz, work your magic.
The Goaltender, Part I*
(*trade value does not equate to true value)
41. Semyon Varlamov (Not Ranked)
The 26-year-old Varlamov was arguably the top goaltender in hockey this past season. The Avalanche paid a hefty price to acquire him from Washington two years ago, and at that time many in the hockey world felt that they overpaid significantly for an injury-prone and inconsistent netminder. Varlamov has since proved those doubters very wrong, and has given Colorado the kind of stability in goal that they haven't had since Patrick Roy retired. His new extension kicks in next year ($5.9 million per for five years), but don't expect his play to slip – especially with an improved defensive group in front of him.
The Defensemen, Part I
A mix of newcomers and familiar faces
40. Marc-Edouard Vlasic (Not Ranked)
Vlasic's 2013-14 season statistics don't leap off the page at you – five goals and 24 points in 81 games. At 6-1 and 205 pounds, he doesn't possess amazing size for an NHL defender either. So why is he deserving of a spot on this list? Team Canada's brain trust obviously saw enough good things from Vlasic's game to name him to the 2014 Olympic squad. Outside of the 2009-10 season, he has missed just four games since coming into the league in 2006. He is among the few defenders in the league that should be considered elite and impactful withoug having to pile up offensive production. Sharks GM Doug Wilson referred to Vlasic as one of the most fundamentally sound defensemen he has seen in over 20 years. Fundamentals may not sell tickets, but they do help win games. And at $4.25 million per year for another four seasons, the Sharks have a bargain to build their defensive group around.
39. Seth Jones (Not Ranked)
Jones, who doesn't even turn 20 until this October, had a very solid rookie campaign in Nashville. In 77 games, he finished with 25 points and averaged 19:37 of ice time per game. The Predators were hoping for one of Nathan MacKinnon or Jonathan Drouin at the draft last year – the team has lacked a superstar forward since… ever. But Jones, who looks every bit the part of a generational talent on defense, has already proven himself to be quite the consolation prize.
38. Victor Hedman (Not Ranked)
Before last season, Hedman's career highs in goals and points were five and 26, respectively. He smashed both of those marks in 2013-14 with 13 goals and 55 points. What changed? For one, confidence. Hedman finally looked comfortable as a top pairing all-situations defenseman under Jon Cooper. And for two, after being snubbed from the 2014 Swedish Olympic roster, The towering 6-6 defenseman finished the season with an equally-large chip on his shoulder. His contract, much like Vlasic's, is a huge bargain (Hedman is owed $4 million per season through 2016-17).
37. Zdeno Chara (19)
Big Z is still one of the league's best defensemen, but he is fighting an uphill battle against father time. He has logged a ton of tough minutes over the past few years (regular season, Olympics, and Boston's numerous postseason runs). The 37-year-old Slovak should still be able to handle top pairing minutes well into his 40s, but his overall effectiveness will continue to decline each year. With that said, he did have 17 goals, 40 points, and 168 shots on goal last year. Getting Dennis Seidenberg back into the lineup will make life a lot easier for Chara as well.
36. Ryan Suter (27)
Suter continues to defy fatigue with the insane ice time he is logging with the Wild. Two years into his massive free agent contract ($7.5 million per season through 2024-25), he has proven to the Wild that he is worth every penny of it. Suter averaged an astounding 29:25 per game in the regular season, and 29:13 during Minnesota's 12 playoff games in 2013-14. Suter's game is all about substance – he isn't flashy nor does he dominate with physical play. He's a great skater and almost never makes mistakes. As the Wild continue to climb the ladder in the Western Conference, expect his stock around the league to rise. His slide on this list isn't indicative of his play last season – it is more a case of several other young players leapfrogging him.
And he isn't just a minute-eater either:
The Goaltenders, Part II*
(*trade value does not equate to true value)
35. Jonathan Quick (37)
Quick once again stepped up his level of play when it mattered the most, and he now has a second Stanley Cup ring to add to his collection for it. His cap hit is reasonable ($5.8 million per season), although the term of his deal is not (he is signed through the 2022-23 season). Quick has been criticized by advanced stats proponents who point to his average play over a large sample size, while his supporters focus on his stellar big game moments. So how good is Quick? Is he one of the top three or four goaltenders in the league? Or is he a top 10 guy who can turn it up when he needs to?
34. Henrik Lundqvist (18)
The best looking man in hockey may also be the best goaltender in the game, but he has two things working against him – age (at 32, he is older than the other goaltenders that made the top 50 list), and money (his annual cap hit of $8.5 million is market value for what he brings to the Rangers, but it is also the largest amount for any NHL goalie – by far). Lundqvist was the only reason that the surprise Rangers made it out of the Eastern Conference this year. He was also the only reason that they were not swept in four by the Kings in the Stanley Cup Final. It is still confounding that 204 players were picked ahead of Lundqvist at the 2000 NHL Draft.
The Wingers, Part I
Five very different players all delivering results
33. Gabriel Landeskog (43)
One of the best young forwards in the game will get the opportunity to play with and learn from arguably the greatest power forward since Cam Neely retired – Jarome Iginla – for the next three seasons. Landeskog is signed to a very reasonable contract ($5.5 million per season through 2020-21) and he has embraced the responsibility that comes with wearing the 'C' for the Avalanche. He had 65 points last season but he is not a player who can be accurately measured or defined by his offensive production. Landeskog is a great defensive forward, he's physical, and he does all of the little things extremely well. As cliche as that sounds, it is true. He is a throwback player.
These traits are very rare in any player, let alone a 21-year-old. As long as Matt Duchene and Nathan MacKinnon are around, he won't need to be Colorado's go-to-guy offensively. But he will often be the team's most important player. And he's got a career in media waiting for him when he hangs up the skates in another 15-20 years:
32. Evander Kane (22)
Although many question his decisions away from the rink, there is no questioning Kane's effort and consistency on the ice. He is far and away Winnipeg's best player, but he may not be a Jet much longer. Kane has made it somewhat clear that he isn't happy as a Jet, and the Winnipeg media have made it clear that they are not going to cut Kane any slack after a few miscues early on into his NHL career. What Kane can do is dominate with his size, speed, and scoring ability, and the Jets won't be able to fetch anything close to his true value if and when they decide (or are forced) to move him out of town. And while possession metrics (such as Corsi) are not the be-all and end-all of player evaluation, Kane has been a positive outlier in Winnipeg ever since arriving.
But Kane's best asset is his contract. He is scheduled to earn $5.25 million per season for the next four years. After John Tavares, he may be the best non-rookie contract bargain in the NHL.
31. Phil Kessel (45)
Speaking of scoring goals, you only need one hand to count the number of players in the NHL who are better pure snipers than Kessel. I have admittedly undervalued him in recent years, underrating his consistent offensive production and overrating what he doesn't bring to the table. As Bill Simmons wrote about NBA guard Russell Westbrook a few years ago, people tend to focus on the 10 or 20 percent of things that elite players don't do well instead of the 80 or 90 percent of things that they do really, really well. Kessel isn't great defensively and he is a non-presence physically, but he can blow by almost any NHL defenseman and he has the best on-the-fly snapshot in hockey.
Starting this season, Kessel will get paid $8 million per season for eight years. That is a lot of money and a lot of term, but the Leafs didn't really have a choice. It isn't easy to replace an automatic 35+ goals each season, and Kessel has developed into a quiet leader for the organization as well. He would have cracked the top 25 on this list if not for the term length of his new deal.
30. Zach Parise (28)
Two years into his mammoth contract, Parise continues to prove that the Wild made a wise investment. On the surface, his 2013-14 production seems underwhelming for a player making $7.5 million per season through 2024-25 (29 goals and 56 points in 65 games), but Parise's work ethic and determination are infectious. He is the kind of player who can (and did) change the culture of a team singlehandedly. He is a first line talent with a fourth line work ethic, and there isn't higher praise for an NHL forward than that.
The Goaltenders, Part II
A cowboy from British Columbia and the one that got away for Toronto fans
29. Carey Price (26)
Price is the backbone of the most prestigious organization in hockey. He recently won a Gold Medal with Team Canada at the Sochi Olympics. He's won pretty much everywhere he has gone – the WHL, internationally, the AHL – all that is left for him in hockey is to hoist the Stanley Cup. Price is one of the most mentally tough athletes in the league (a necessary trait for any goaltender in Montreal), and he is signed through 2018 at a reasonable $6.5 million per season. Oh, and he moonlights as a pet detective too.
28. Tuukka Rask (46)
Rask plays the goaltender position with equal parts flair and technical proficiency. Like the other goaltenders on this list, he is signed long term ($7 million per season through 2021). He deservedly won the 2014 Vezina Trophy as the NHL's top goaltender, and should contend for the award for the foreseeable future. His career numbers – a 2.11 goals-against average and a .928 save percentage – are stellar. The only thing standing in Rask's way of leaguewide dominance is Price and the Canadiens – Rask has a career 3-10 regular season record (and a very pedestrian 2.63 goals-against average) against Boston's hated rival.
The Cornerstone
One of the best young centers in hockey
27. Ryan Johansen (Not Ranked)
The currently un-signed Johansen is perhaps the best young player in the league that most people don't know about. The 2010 fourth overall pick took a few years to adjust to the NHL game, but he used last season as his coming out party – 33 goals and 63 points in 82 games. He is Columbus's best forward, and he is also currently in the middle of contentious contract negotiations. Team Johansen wants a long-term lucrative contract, while the Blue Jackets want to see more from him before committing either term or dollar. Johansen is only one year removed from an AHL benching. He has come a long way since then, but it is a risk to commit a large amount of money to an unproven entity. On that note, it is probably a risk to place him ahead of so many proven talents on this list too.
Columbus would prefer a bridge deal, similar to the one PK $ubban signed with Montreal two years ago. One thing is for certain – the 6-3, 225 pound center is going to be a very, very good NHL player for a long time.
26. Corey Perry (16)
Perry's slide on this list is more indicative of young talent improving than anything on his end from 2013-14. He eclipsed the 40-goal mark for the second time in his NHL career, and finished the season with 81 points in 82 games. Arguably the most annoying player in hockey, Perry never lets his opponents (including those who he teamed with to capture a gold medal at Sochi) off the hook.
The Center(s) of Attention, Part I
Three franchise building blocks who play up the middle
25. Logan Couture (32)
San Jose's best player is signed to a solid contract ($6 million per season through 2018-19) and he continues to improve his play each season. It is quite clear that Couture is now the face of the franchise, taking the role over from Joe Thornton, Patrick Marleau, and Dan Boyle. It took Couture a few years to earn his place among the NHL's elite, as his strong two-way game is something that takes a few viewings to appreciate. He's a great skater, a smart playmaker, and extremely tough to knock off the puck. Couture is one of the top five or 10 most well-rounded forwards in hockey, and he is slated to be ready for training camp after undergoing hand surgery a few months ago. Couture sustained the injury fighting Mike Richards during Game 6 of the improbable Los Angeles comeback from a 3-0 series deficit.
24. Patrice Bergeron (31)
Bergeron is Mr. Everything for the Boston Bruins, and that everything includes signing hometown discounts. This summer he signed his third straight below-value contract with Boston (an eight year extension worth $6.5 million per season). Bergeron is the best faceoff man in hockey. He's arguably the best defensive forward in hockey, too. He's a great playmaker and a solid goal scorer. He leads by example and he is a role model for young hockey players with his tough and clean playing style. He has two Selkes, a Cup, two gold medals, and is also the latest EA Sports NHL cover athlete.
Analytics fans love him. He is a puck possession monster while playing shutdown minutes against top players every single night. As a throwback hockey player, the old school fans love him, too.
23. Matt Duchene (34)
Arguably the NHL's most electrifying skater, Duchene is a treat to watch. He spends his summers training alongside Sidney Crosby, a change he made a few years ago. He also credits Crosby with advising him to adopt a shorter stick (four or five inches shorter than his previous stick – a significant reduction). He had 70 points in 71 games for Colorado last season, and has 90-100 point upside in the right situation. Duchene's contract ($6 million per year for four more seasons) is a bargain. His absence through the first five games of the postseason likely cost the Avalanche the first round victory, as he returned at less than 100% for Games 6 and 7 (he still finished the round with three points in those two games).
The Defensemen, Part II
The minute-eating, tempo-controlling blueliners
22. Oliver Ekman-Larsson (13)
If Ekman-Larsson played in Toronto or Philadelphia, he may have his own Norris by now. The slick two-way defenseman eats up tough defensive minutes and creates offense for the Arizona Coyotes. He is signed long-term (through 2018-19) to a fantastic contract ($5.5 million per season). His 2013-14 was not quite as strong as his previous season, but the Coyotes regressed across the board. He plays the game with more of an edge than you may think, too.
And how many defensemen are capable of pulling moves like that in a game?
21. Duncan Keith (38)
The 2014 Norris Trophy winner (his second time winning) is one of the most complete players in hockey. He is locked up to a dollar-friendly contract, but he will be making his $5.5 million per season until the age of 40. Keith is a fitness nut, so don't count him out from playing at an elite level for close to another decade. He is an extremely powerful skater and plays like a football safety – he is constantly flying all over the ice, attacking the puck, closing gaps on opposing forwards, all the while creating and breaking up scoring opportunities.
His 2009-10 season was one of the best from a defenseman in the modern era, and his 2013-14 campaign was arguably just as good. He probably won't record 55 assists again, but he adds immeasurable value to the Blackhawks in so many other ways.
20. PK Subban (15)
The 2013 Norris winner continued his strong play for Montreal last season. The only reason he slides six spots on this list is (potential) money. After signing a very team-friendly bridge contract two summers ago, Subban is backing his truck up to the Montreal Canadiens bank vault as we speak. The NHL marketplace is interesting at times. The Canadiens had no problem overpaying for Brandon Prust to play on their fourth line, but they don't seem willing to give Subban the money he deserves. Pay your top guys first. Chicago, Boston, and Pittsburgh have it figured out. Post-contract update: Montreal has inked Subban to a massive eight-year extension with an annual cap hit of $9 million per season. I figured Subban was due to receive a contract in that ballpark so I won't be moving him up or down the list accordingly. He is making close to double the player who comes next… and he isn't twice as good… he fits perfectly here at 20.
Members of the hockey world (mostly media) still criticize Subban for his style of play (reckless at times, they say), but Subban's body of work speaks for itself. He's one of the game's best – and most electrifying – players.
19. Ryan McDonagh (33)
I'll get the inevitable Scott Gomez trade comment out of the way for all of the Montreal fans reading this. The Rangers fleeced/stole/robbed the Canadiens blind by acquiring McDonagh during the Gomez salary dump a few years ago.  McDonagh is now one of the best defensemen in hockey. He played through a shoulder injury in the 2014 postseason, but that didn't stop him from matching up against the likes of Sidney Crosby and Anze Kopitar (while averaging close to 27 minutes per game, too). His 14 goals and 43 points during the regular season also highlight his offensive abilities.
And at $4.7 million per season through 2018-19, McDonagh is an absolute bargain for Glen Sather and the Rangers. The following defensemen all carry a higher annual cap hit than McDonagh into next season – Lubomir Visnovsky, Andrew MacDonald, Sergei Gonchar, Dennis Wideman, Brooks Orpik, Matt Carle, and James Wisniewski.
18. Alex Pietrangelo (24)
Pietrangelo and his defensive partner Jay Bouwmeester are the NHL's most mobile pairing on the back end, and they could probably hold their own in an all-time best skating defensive duo debate as well. Pietrangelo does everything extremely well. He's got great size and range, a booming point shot, and terrific instincts in all three zones. He's locked up long term (a common theme among all of these top defensemen save for Subban as of July 31st). Pietrangelo isn't quite the bargain that McDonagh is, but at $6.5 million per season you could do a lot worse than a 24-year-old franchise cornerstone.
17. Shea Weber (14)
The Predators are not-so-coincidentally hosting their Weber bobblehead night this season against the Philadelphia Flyers (the same Flyers that gave Weber a 14-year, $110 million offer sheet two summers ago). Weber is slated to earn $7.8 million per season through 2025-26. That is a long time for any player, even one with Weber's track record and playing ability. The Sicamous, British Columbia native is equal parts power and skill – he enjoys both blasting pucks through the net and blasting opposing forwards into oblivion.
I may have shared this video clip last year, but I don't care. I wanted to watch it again (and again):
The Centers of Attention, Part II
A slow starter and a return to dominance

16. Claude Giroux (10)
After a slow start to the season, Giroux played himself into Hart Trophy contention with a phenomenal second half. He didn't make Canada's Sochi squad (only because Canada's center depth is absolutely ridiculous), and that added motivation probably played a part in his resurgence. Giroux scored 23 goals and added 35 assists in the final 50 games of the 2013-14 regular season, almost single-handedly willing the Flyers into the playoffs. He's fairly compensated for what he brings to the table – at $8.2 million per season (signed through 2021-22) he's not a bargain, but he would definitely fetch more if he hit the open market.
15. Ryan Getzlaf (21)
After an underwhelming 2011-12 campaign (11 goals and 57 points in 82 games), Getzlaf has worked his way back into the mix as an elite player. He scored 31 goals this past season (a career high), and finished with 87 points (four off of his career best of 91). At 6-4 and close to 225 pounds, Getzlaf is a bruising force on the ice. He doesn't initiate contact in a classic power forward sense, but he is dominant along the boards and almost impossible to knock off of the puck. He was a well-deserved runner up to Sidney Crosby for the Hart Trophy in 2014, and his 14-game point streak in late 2013 was the longest in the NHL in over two seasons.
Some in the hockey world believe that Getzlaf deserved the Hart over Crosby because he plays in the Western Conference. Not only was Getzlaf extremely productive last season, but he had to go up against the likes of Anze Kopitar, Henrik Sedin, Jonathan Toews, and Joe Thornton on a regular basis. Much like Giroux, Getzlaf is very fairly compensated ($8.25 million per season through 2020-21) for what he brings to the table.
14. Taylor Hall (5)
Expectations are a funny thing. I had no issues putting Hall in the top five last season. At the time, he was showing all the signs of a superstar in the making. And this past season he set career highs across the board. So why did he fall nine spots? His contract is reasonable for a top line winger – a $6 million cap hit – but his overall game was not where it needed to be in 2013-14. Hall (and his other elite young contemporaries in Edmonton) was not immune from criticism after another dismal finish for the Oilers in the Western Conference. His solid offensive production cannot be ignored, but for him to get back into the top five (or even the top 10), he will need to do more than just fill the stat sheet with goals and assists.
Big D Living
A fresh start for one and a breakout season for both
13. Tyler Seguin (30)
12. Jamie Benn (17)
Let's get the contract stuff out of the way first. Seguin checks in at $5.75 million per season for the next five seasons. Benn's cap hit is $5.25 million per season for three more. The dynamic duo in Big D got an early taste of success together as they helped lead the Stars to a much-needed postseason appeareance. Seguin is a dynamic forward with elite vision and a sniper's touch. Benn has incredible hands and plays the game like a raging bull on skates. He enjoys going through opposing defenders just as much as he enjoys going around them.
Seguin and Benn both stand to benefit tremendously from another stellar off-season in Dallas, as the Stars brought in Jason Spezza and Ales Hemsky to provide additional firepower upfront. In just over a year on the job, Stars general manager Jim Nill has found a way to add two number one centers (and both were acquired for well below value). The Stars didn't have to force chemistry between Seguin and Benn, either. They moved into the same apartment building in Dallas and immediately clicked as friends. But more importantly they meshed together like peanut butter and jam on the ice, combining for 71 goals and 148 points.
Mr. Magnetic
Indisputably the most polarizing hockey player on the planet
11. Alex Ovechkin (7)
I always struggle to find a spot for Ovechkin on this list. From a marketing standpoint, he trails only Crosby in the hockey world. And he was the only NHL player to score 50 goals in 2013-14 (he found the back of the net eight more times than any other NHL player). But Ovechkin was also accused in the media (a classic Ron Wilson tactic) by his former head coach, Adam Oates, of quitting on a key defensive assignment. He had the third worst plus-minus in the league (-35). While plus-minus is often an inaccurate measure of a player's defensive acumen, Ovechkin's dismal ranking effectively reflects his poor defensive play.
The Capitals don't pay him $9.5 million per season to back check, but his complete disregard for the defensive zone cost his team – and his reputation – significantly. Almost every single Capital player has struggled ever since the organization jumped the shark a few years ago (constant coaching changes, promises of a new identity, trades and signings with little regard for a future plan or vision), so Ovechkin doesn't deserve all of the blame. But as team captain and the face of the franchise, he is responsible for a lot of it.
Highlight Reelers
Two of the most exciting players in the league
10. Patrick Kane (20)
I originally had Kane ranked a few spots higher, but his new eight-year contract extension (with an annual cap hit of $10.5 million) is a lot of money for any player – even one of the game's best. Kane does have one year left on his current deal and will only count for $6.3 million against Chicago's cap this coming season. And there are 29 other teams that would do their best to fit him (and his new contract) in on their roster over the long term, as well. He's a game breaker in every sense of the word. He's the most skilled forward in hockey not named Pavel Datsyuk, and it is only a matter of time until he flirts with the 100-point mark. It will be interesting to see how Brad Richards fares as Chicago's second line center. The Blackhawks haven't had a legitimate number two behind Jonathan Toews for quite some time, and that put a lot of the onus on Kane to carry his line (no offense to Michal Handzus, of course).
One thing to keep in mind with the Kane and Toews extensions is the rising salary cap. The proportion of the Chicago salary cap that they will eat up is similar to Getzlaf/Perry in Anaheim and Evgeni Malkin/Crosby in Pittsburgh.
9. Nathan MacKinnon (Not Ranked)
Many hocky fans were surprised after the Colorado Avalanche passed up defenseman Seth Jones with the 1st overall pick at the 2013 NHL Draft. The team selected MacKinnon out of the QMJHL instead, and the former Halifax Moosehead made them look very smart with his play as a rookie. He was an easy choice for the Calder Trophy, and he almost led the Avalanche into the second round with a few dominant performances against Minnesota in the opening round. MacKinnon plays the game at a hundred miles an hour – his powerful skating stride chews up the ice and his arsenal of offensive moves leave opposing defenders shaking their heads. He has two years left on his rookie deal (which carries a cap hit of up to $3.7 million if he hits all of the built-in performance bonuses). The big pay day is on the horizon already, though.
And here's some more context in case you think MacKinnon in the top 10 is a stretch. Of all 1st overall picks since 1997, MacKinnon outproduced every single one as a rookie – excluding Sidney Crosby (each of them recorded 63 points as an 18-year-old). That list includes Ovechkin, Joe Thornton, Stamkos, Tavares, Kane, Ilya Kovalchuk, Rick Nash, and Vincent Lecavalier.
8. Erik Karlsson (6)
The best offensive defenseman in hockey is signed to a very cap-friendly contract through 2018-19 ($6.5 million per season), which helped to solidify his spot in the top 10. At the age of 24 Karlsson already has broken the 70-point mark twice. It will be interesting to see how he fares without Jason Spezza, as Ottawa's lineup isn't exactly overflowing with offensive talent. But Karlsson has done a lot of his great work regardless of who he has played with. The what-if game is generally a waste of time, but one does have to wonder how Karlsson would look on Chicago's top offensive unit alongside Keith, Toews, and Kane.
Karlsson still gets some flack for his "shoddy" defensive play. He isn't Chris Pronger or Rob Blake in his own zone, but for a 6-0, 180 pound offensive defenseman (who is a threat to score 20 goals), his defensive game is passable. And every single Ottawa player – save for Clarke MacArthur – had better possession numbers with Karlsson than without.
The Kings of Los Angeles
Hockey's most physically dominant center and its smartest defenseman
7. Anze Kopitar (8)
Kopitar is one of the best players in hockey. He has single-handedly put Slovenia on the map for many non-European hockey fans, and at $6.8 million per season for two more years, he is a huge bargain to the Kings, too. He is a physical force on the ice, bullying opposing centers and defensemen with his size, range, and strength on the puck. Kopitar is an elite defensive forward and an elite offensive forward, too. He is incredibly durable and elevates his play in the postseason (as evidenced by his two Stanley up rings). He is one of hockey's best possession forwards, he makes all of his teammates better, and he plays against the toughest competition among all Kings players.
He is going to be awfully expensive to extend next summer – expect his new contract to resemble the recent Kane/Toews extensions. But dominant and durable two-way centers don't grow on trees.
"You try and describe guys [as] 'shut-down D' or 'goal scorer' or 'grinder.' I've said this before about Kopy, he's just a hockey player," Kings captain Dustin Brown said. "If the best play's a pass, it's a pass, if the best play's a shot, it's a shot. He's just a complete hockey player. He doesn't get enough credit in my opinion partly probably because of the market we're in, his background. If he was a Canadian and played in New York, [there would] probably be more people talking about him."
6. Drew Doughty (11)
At the age of 24, Doughty already has two Stanley Cups and two Olympic gold medals to his name. He has hit the double-digit goal total in four of his six NHL seasons, but anything he does at the offensive end of the rink is just a bonus for the Kings. Doughty is arguably the game's top two-way defender – he is physical and can skate the puck out of problem areas, and he can (and does) log extremely tough minutes in all situations. He was a finalist for the Norris Trophy at the age of 20 and will have a few of them by the time his career wraps up. His contract is a bargain ($7 million per season through 2018-19) and will become even more of one as the cap continues to increase each season.
Former Kings teammate Willie Mitchell refers to Doughty's phenomenal ability to move "sideways" on the ice – sometimes resembling a more physical Nicklas Lidstrom or Sergei Zubov. Doughty skates like he was born with a pair of them already on his feet.
The Best Player on the Planet*
*When he wants to be
5. Evgeni Malkin (10)
With three 100+ point seasons to his name (in addition to a Stanley Cup, Conn Smythe, and Hart), Malkin has firmly cemented himself as one of hockey's best players. And he's paid like it, too. At $9.5 million per season through 2021-22, Malkin is taking up almost 15 percent of Pittsburgh's salary cap for the 2014-15 season. Although his regular season production over the past two years has been very good, 105 points in 91 games is below what we have come to expect from the lanky Russian. There is a belief in some hockey circles that Malkin plays his best hockey without Crosby, but don't expect Pittsburgh to put that theory to the test any time soon. Having two elite centers is an advantage that few teams across the league can compete with.
Malkin has proven that he can excel with just about anybody on his wings, and it will be interesting to see how he fares without his favorite running mate (James Neal) this season.
Hockey's Mount Rushmore
The three best players and the best contract in hockey – all centers, all Canadian
4. Jonathan Toews (4)
The top four remains the exact same as last season. Toews has only eclipsed the 70-point mark once in his NHL career, but he isn't the type of player that you can accurately evaluate with just goals and assists. He is one of the best faceoff men in hockey (as evidenced by his close-to 60 percent success rate in the postseason this year) and is a great leader, too. Two gold medals, two Stanley Cup rings, a Selke, and a Conn Smythe. What's next for Captain Serious?
3. Steven Stamkos (3)
Stamkos-to-Toronto will be hockey's biggest rumor for the next year (and potentially longer). He has two years left on his current deal ($7.5 million per season), and there are rumors out there that he would love nothing more than to return home to play for the Maple Leafs (and Stamkos added fuel to that fire a few weeks ago after favoriting this tweet). I know player comparisons are often unfair (especially across decades), but at his best Stamkos is a hybrid between Mike Modano and Brett Hull (taking the best elements of both – Modano's speed, fluid skating, and instincts, and Hull's ability to hammer the puck). If you combine his goal totals from the last two seasons into one (54 goals in 85 games), Stamkos has scored over 50 goals in three of his last four full seasons. That kind of consistent dominance is simply unmatched in the NHL today.
He has the potential to be the NHL's first "max salary" player (if he wants to be, at least), and if the cap keeps rising each year, that could mean that his annual cap hit could approach $14 or $15 million per season. Even if he scores 50 goals per season a few more times, it will be tough to justify a top three spot on this list at such an astronomical cap hit. And it will be interesting to see how his production is affected without Martin St. Louis around to feed him one-timers. The Lightning do possess a great number of talented young players, so don't expect his production to slip much, though.
2. John Tavares (2)
The Islanders captain isn't as accomplished as most of the players in the top 10, but he is signed to the most cap-friendly contract in hockey. At $5.5 million per season through 2017-18, Tavares is woefully underpaid for what he brings to the ice on Long Island (and soon in Brooklyn). He is one of the most dangerous scorers on the planet, and his play away from the puck has improved significantly over the past few years. The Islanders are on the verge of a major breakout, and Tavares will be front and center in any success that they have. He doesn't have Matt Moulson on his wing any more, but New York is also another team rich in young offensive talent.
1. Sidney Crosby (1)
Hockey's best player continues to face scrutiny at an unmatched level (in hockey at least, he's still got nothing on LeBron). He captured his second Art Ross and second Hart this past season, but he ended things on a sour note with only one goal in 13 playoff games. Crosby, obviosuly a huge fan of the number 87, took a significant discount to sign long-term in Pittsburgh (at an annual cap hit of $8.7 million through 2024-25). The Penguins did take a risk with the deal, locking the uninsurable Crosby up very soon after his return to the lineup from concussion/neck/head related issues, but Crosby could have easily fetched if he had waited to test the open market.
The former Rimouski Oceanic star played tougher minutes this season than he has in the past (Brandon Sutter is no Jordan Staal defensively), and he still found a way to put up ridiculous offensive totals. His spot atop this list is about as solid as it gets (but keep the name Connor McDavid in mind).