Crosby or Ovechkin? Malkin or Stamkos? Giroux or Tavares? Who is the best defenseman in the NHL? The answers to these questions can be found in my inaugural Top 50 NHL Trade Value Rankings. Read on….
My inspiration for compiling this list came from Grantland, where Bill Barnwell recently published his top 50 NFL trade value rankings (a terrific two part series, which can be read here and here, respectively). Barnwell borrowed the idea from Grantland editor-in-chief Bill Simmons, who has published his annual top 50 NBA trade value rankings for the past 12 years.
There are a lot of factors that go in creating such a comprehensive list. In coming up with the guidelines for his, Barnwell used football players as his examples. I went ahead and translated his words into hockey-speak.
Here is how Barnwell constructed his list (with my notes and revisions below):
Contracts matter. Larry Fitzgerald is a better receiver than Jordy Nelson, but Fitzgerald's in the second year of a contract that will guarantee him about $50 million, while the Packers have Nelson locked up to a four-year deal that guarantees him only $5 million.
I agree that contracts matter. The NFL doesn't have guaranteed contracts like the NHL does, so how contracts affect a player's value won't be the same in hockey as in football. A 40-goal scorer making $5 million will surely beat out a 40-goal scorer making $6 million, though (all other things being equal).
Age matters. Justin Smith might have been the most valuable defensive player in football last season, but he turns 33 in September. Jason Pierre-Paul's nowhere near as complete of a player, but when he turns 33, your third-grader will be heading off to college.
Age most definitely matters, and it is something I took into consideration with each of my selections (and non-selections) for the top 50 list. Martin St. Louis is an elite talent, but he is closer to 40 than 30, and that hurts his trade value.
Pretend that every team can fit each player on this list within their cap and that they have a below-average starter at the position in question. The Packers aren't going to deal Jermichael Finley for Matt Ryan because they have Aaron Rodgers, even though that trade would happen in a heartbeat if the Packers had Matt Flynn as their starter.
Team depth charts are (largely) irrelevant for these rankings. I agree with this point. For example, the Los Angeles Kings wouldn't value Henrik Lundqvist as highly as other teams would, as they already have Jonathan Quick starting in goal.
Quarterbacks are more valuable than pass rushers, who are more valuable than wide receivers, who are more valuable than interior linemen. When in doubt, we looked at how organizations valued top players at each position when re-signing their own or shopping in free agency.
Positions matter. This matters more in football than in hockey, but it was taken into consideration. Young defensemen capable of logging big minutes are extremely valuable in hockey, for example (hey there, Mr. Ekman-Larsson).
It's a question of degree. The Chargers might not deal Philip Rivers for Cam Newton, but they'd have to give the possibility of acquiring a younger, cheaper, healthier guy some thought. The Panthers would never deal Newton for Rivers.
This applies to hockey, as well. Boston wouldn't trade Zdeno Chara, but if Nashville called up and offered Shea Weber, they'd think about it. A trade like this would be completely unrealistic in real life, but in terms of trade value, Weber carries more (and this comes back to the age factor).
This list runs in reverse order. If Rob Gronkowski is 20th on the list, the Patriots would probably at least consider dealing him for one of the first 19 players on the list, but they wouldn't bother having a conversation for players 21-50.
The list is in reverse order. My list follows this structure as well.
To summarize, age, position, and contracts are all important factors, depth charts in real life don't carry full value, and the list runs in reverse order.
In sports, things can change significantly in a year. Some players regress. Others emerge out of nowhere. Sometimes all a player needs is an opportunity (just ask the player ranked sixth on the list) or a change of scenery (James Neal would agree). Conversely, an injury or change in role can have an opposite effect. Marc Savard was in the top 10 in NHL scoring in 2008-09, only four seasons ago. Fast forward to present day – he struggles with simple day-to-day activities, thanks to the lingering effects of a concussion he suffered almost two years go.
It will be interesting to see how the lockout impacts hockey this time around. In 2005-06, the game that emerged from the work stoppage was faster, more skilled, and younger (deemed the "new" NHL). Arguably the best crop of rookies in NHL history benefited from the extra year of development.
Does this become the "new new" NHL? Will rookies like Nail Yakupov, Jonathan Huberdeau, and Mikael Granlund benefit?
Before we get to the list, I want to apologize to Columbus Blue Jackets fans. The Jackets were the only team to not have a player in the top 50 or even named as an honorable mention. If only we could take Cam Atkinson and give him Jack Johnson's size and skating ability….
Hope you have your reading glasses on. Buckle up.
 _______________________________________________
THE HONORABLE MENTIONS
_______________________________________________
THE ROOKIES
Only professional experience is standing in the way of these three talents
Jonathan Huberdeau
Huberdeau is arguably the top prospect in hockey, and he narrowly missed the cut for this list. Why? Well, he has zero games of professional experience. The same could have been said about Sidney Crosby in 2005, Steven Stamkos in 2008, or Ryan Nugent-Hopkins in 2011 – a lack of professional experience affects trade value negatively.. Potential and upside are well and good, but what a player has done matters more than what he could potentially do. This omission isn't meant to slight Huberdeau – if he performs as well as a rookie as many are expecting, he's a lock for the top 50 at this time next year.
Mikael Granlund
See above. Granlund, like Huberdeau, could be considered the best prospect in hockey. He is a dazzling talent with a ton of skill in his game. But he hasn't played a minute of professional hockey (in North America) yet. Granlund's skating has been knocked a bit, but who cares when you can do this:
Jacob Markstrom
I went back and forth on Markstrom – he is arguably the best goaltender not in the NHL, but Florida's summer fling with Roberto Luongo clouds Markstrom's future in the Sunshine State a bit. Young goaltenders are generally slower to develop than forwards or defensemen, as well.
THE VETERANS
Father time is the only thing working against these three stars
Miika Kiprusoff
Kiprusoff has two years left on his current contract, although he will only be making $1.5 million if he decides to play in 2013-14 (his deal was massively frontloaded as the annual cap hit is $5.8 million). From 2003-06, he was the best goaltender in the NHL, and one of the most dominant players in the sport. However, thanks to Calgary's phobia of rebuilding, he has had to play behind very mediocre teams since then. There isn't much help on the way, either (paying Dennis Wideman like a top pairing defenseman doesn't mean he will perform like one, unfortunately).
Ryan Miller
Like Kiprusoff, Miller was once the best goaltender in the league (2010), but he has struggled since. His peak was leading the underdog Americans to a silver medal at the 2010 Winter Olympics. He won 41 games in 2009-10 for Buffalo, and his win totals have been declining since (34 and 31 wins, respectively). Miller is still one of the best goalies in the league, but he needs to get his level of play back to where it was if he wants to provide positive value while making $6.25 million per season.
Miller's 2011-12 season could best be described as unfocused. I wonder why?
Martin St. Louis
In terms of pure skill, there are few that rank above the diminutive right winger. His numbers are impressive – six straight seasons of 70+ points, including a 102-point season, a 99-point season, and a 94-point season. He has played a significant part in the emergence of Steven Stamkos (more on him in a while), and he is a widely-respected leader and ambassador for the sport. However, this is one number working against him – 37. St. Louis turned 37 back in June, and even with his extreme dedication to fitness, we have likely seen his best. If he hadn't won a Cup already, St. Louis would likely be getting the Ray Bourque/Steve Nash treatment (a veteran that everyone is pulling for to win a title before retirement).
The downside of his success is that every undersized forward is unfairly compared to him (call it the Theo Fleury syndrome).
THE BEST OF THE REST
For varying reasons, these eight players narrowly missed the top 50
Dustin Brown
I can already hear the angry Kings fans questioning Brown's omission from the top 50. He has one of the best contracts in hockey, and he was the most dominant forward on the ice for many games during the recent postseason. His great play started back in the regular season, as Brown had 27 points in 32 games after the All-Star Break. Why he isn't on this list? His sample size of dominant play is too small.
He has been a player who was involved in trade rumors as recently as this past February, and he has scored more than 30 goals at the NHL level only once. Brown is arguably the most feared hitter in the NHL. However, he needs to take the next step offensively to make the top 50 list. If he isn't a household name yet, he may be if the NHL decides to implement a "divers list" across all arenas in 2012-13. Speaking of….
Ryan Kesler
Ryan Kesler could never be faulting for not caring, and that has both helped and hurt him. At his best, he is a dominant, Selke-winning center capable of scoring goals and shutting down top opposing forwards. At his worst, he is a player who is known for his blatant acts of embellishment. His play against Nashville in the 2011 Western Conference Semi Final was one of the most impressive performances in a series by a forward in the last 20 years. His stellar postseason run that year contributed to a poor regular season after, though. Kesler rushed back from offseason hip surgery, and never got on track.
Keith Yandle
Young puck moving defensemen don't grow on trees, but don't tell that to Phoenix GM Don Maloney, as the Coyotes boast a number of elite young puck movers. Their relative strength on the back end may lead to Yandle being offered up as trade bait for a top line center, and it will allow us to get a look at his actual trade value. He does a lot of things very well (skate, shoot, and move the puck), but he has been passed over on the depth chart by the even more impressive Oliver Ekman-Larsson.
Logan Couture
The Rodney Dangerfield of the NHL, Couture is a player who does everything well, and this ends up hurting his value around the league. Aside from his hockey sense, no aspect of Couture's game stands out – he has a very good shot, great hands, and he is a good skater. However, there isn't one defining attribute that comes to mind when his name is mentioned. San Jose would prefer it that way, too, as they will be building their team around him for the next decade.
James Neal
How could I leave a 40-goal scorer off the list? A few reasons – the Rob Brown effect, for one. Neal benefitted from lining up with the best player in the world (currently) last season – Evgeni Malkin. Brown is a former NHL player who scored 49 goals playing on Mario Lemieux's wing in 1988-89 (more than one-quarter of his career NHL goals came that season).
And two – Neal plays a very offensively-focused role. It may not be fair to fault him for excelling with great linemates and making the most of scoring opportunities, but I am going to do it anyway. He needs to prove last season wasn't an aberration to qualify for the top 50 list. Of all NHL players with at least 40 games played in 2011-12, Neal ranked 10th in offensive zone start percentage at 64.4. What this means – he started almost two-thirds of his shifts in the offensive zone, with Malkin passing him the puck. Seems like a pretty sweet gig, no?
Ryan McDonagh
Regardless of what Pierre McGuire may tell you, the smooth-skating former Wisconsin Badger was the backbone on the Rangers defense last season, and not Dan Girardi or Marc Staal. And I won't beat the dead horse for Montreal fans… but Glen Sather should be locked up for committing grand larceny when he not only dumped Scott Gomez's contract on Montreal, but pried McDonagh away as well.  He doesn't turn 24 until next summer, and he's already one of the NHL's top defensemen.
Mike Smith
Smith's turnaround happened faster than it takes to count to 2.90 (his GAA in his final season with Tampa Bay). The Coyotes, free of space explorer and goaltender Ilya Bryzgalov, signed Smith as a free agent last summer. The club recognized his natural abilities and he worked closely with goalie coach Sean Burke to shore up his weaknesses. He is an incredibly fun goaltender to watch – there aren't many who play with more flair and athleticism at the position. I left him out of the top 50 for a few reasons: one, he has only been an elite goaltender for one season, and two, Phoenix has a way of making goaltenders look good.
Joe Thornton
Jumbo Joe was, at one time, the most feared offensive player in the NHL. He has quietly developed into a very good two-way forward over the past few seasons, but his production has subsequently fallen off. The 33-year-old center plays a very cerebral game and should have another couple of seasons (he has two years left on his $7 million-per-season contract) as a top line center until Couture passes him, but he isn't as impactful as he once was.
_______________________________________________
THE BIG MONEY VETERANS
They make a lot, but they also deliver a lot
_______________________________________________
50. Marian Gaborik
There aren't many players who score goals with Gaborik's proficiency. He is still the best skater in hockey, and should find a way to hit 500 goals if his body can remain intact. He's out until November or December as he recovers from offseason shoulder surgery. Gaborik has three 40+ goal seasons at the NHL level, and seven 30+ goal seasons. He was a victim of John Tortorella's outbursts on HBO's 24/7 last year, but he redeemed himself by carrying a Christmas tree through the streets of New York. Gaborik is just an everyday man who happens to make $7.5 million and skater better than anyone else on the planet (while chasing a puck).
49. Jason Spezza
Spezza doesn't turn 30 until next summer, although it seems as if he has been around forever. With a career-high 34 goals, 2011-12 was Spezza's best season in the NHL. Although his 84 points was only his fourth best career mark, he didn't have Dany Heatley on his wing (back when Heatley was motivated and healthy). Spezza's play away from the puck has improved immensely, and he is taken on more responsibility as a leader – something he was slow to embrace as a younger player.
_______________________________________________
THE NEXT GREAT GOALIES
They haven't arrived… yet
_______________________________________________
48. Tuukka Rask
Rask can thank Tim Thomas for his ranking on this list. Thomas decided to take a year off from the sport to focus on other things (including supporting the 'rights' of fast food restaurant chains), which opened up the starting spot in Boston for Rask. He hasn't played a lot in parts of five seasons with the Bruins, but he has been dominant in his limited duty. Rask is a fiery personality who relies on Gumby-like reflexes to make saves and frustrate opposing shooters. How many teams would like to add a 25-year-old surefire star goaltender playing for a new contract? I know of at least one, and they traded Rask six years ago for a goaltender now playing for a team named Milano Rossoblu.
47. Cory Schneider
Like Rask, Schneider has excelled in limited NHL action. While Rask succeeds with intensity and flexibility, Schneider is calm, poised, and technically proficient. He isn't officially the starting goaltender in Vancouver, as Roberto Luongo is still kicking around. There is a bit of a risk with both Rask and Schneider, as neither goaltender has handled a starter's workload before. However, from what they have shown, both on track to become two of the best in the league.
_______________________________________________
THE EDMONTON OILERS, PART I
These young Oilers aren't used to winning, but that is sure to change
_______________________________________________
46. Jordan Eberle
Eberle's recent contract extension (six years and $6 million per) created a significant divide among hockey fans – the number crunchers point to his cushy offensive zone starts (60.7 percent) and his easy minutes (Edmonton's rookies didn't see tough matchups very often), while others bring up his 34 goals, 76 points, and cult-like national hero status for his heroics with the Canadian World Junior squad over the years. Eberle may not live up to his contract, but you could do a lot worse with $6 million.
45. Nail Yakupov
Yakupov is the only player with zero NHL experience to make the list. He is considered by many to be the best prospect since Sidney Crosby. Yakupov skates like Pavel Bure, he competes like Alex Ovechkin (used to), and he shoots the puck like Ilya Kovalchuk. He's likely going to bump Eberle down to the second line in Edmonton, as well. His place on an "ability to create lame sports headlines from a ast name" list would be considerably higher.
_______________________________________________
HOCKEYTOWN, USA
The dynasty isn't dead… yet
_______________________________________________
44. Pavel Datsyuk
If this were a countdown of the best highlight reels on Youtube, Datsyuk would hold down the top 10 spots. And if this were a countdown of the best two-way forwards in the game, he would sure be a lot higher than 46th. What holds him back? His age (34), for starters. Former Red Wing Sergei Fedorov recorded 83 points as a 33-year-old in 2002-03 with the Wings. He played five more NHL seasons, eclipsing the 50-point mark only once.
While it is doubtful that Datsyuk ends up playing in Anaheim, Columbus, and Washington like Fedorov did, he is headed for a steady decline from here on out. He has missed 38 games over the past two regular seasons, as well. And goalies around the league are grateful for that.
43. Henrik Zetterberg
Zetterberg is a prototypical Swede in many ways – he is disciplined, responsible in his own zone, deferential with praise, and quietly confident. However, he also has a lot of Detroit in him – he plays with intensity and grit when the stakes are raised. He is the likely choice to follow Nick Lidstrom and Steve Yzerman as the next captain in Detroit. He's two years younger than Datsyuk, and appears to be headed in the opposite direction with regards to durability, having missed only two games over the past two seasons.
There weren't many (any?) better two-way hockey players than Zetterberg in 2007-08. He followed up a 43-goal, 92-point regular season with 13 goals and 27 points in 22 postseason contests.
The hidden beauty of both Datsyuk and Zetterberg is how they were cultivated by the "system" in Detroit. Even as rookies, they understood that the team came before individual success. Both players could have contended for scoring titles if they focused more on offense, but that isn't the Detroit way, and it is a reason why both have been integral parts of Detroit dynasty.
_______________________________________________
THE SHOULD/COULD-BE FRANCHISE FORWARDS
These players have the talent to lead a team, but for whatever reason they haven't… yet
_______________________________________________
42. Rick Nash
We know exactly what Nash's trade value is, thanks to his recent move to New York. Columbus received two-way center Artem Anisimov, gritty winger/center Brandon Dubinsky, top prospect Tim Erixon, and a 1st round draft pick in exchange for Nash. In Columbus, he was the franchise player by default (he was the only 1st round pick who actually developed properly by the early regime), and he never fully embraced the role of captain and leader.
He isn't blameless, but he isn't totally at fault, either. It must wear on a player to head to the rink each day knowing that a loss is a likely result, regardless of how nice the bank account looks at the end of the day. Just as easily as Nash could have been left off of this list (we have likely seen his best hockey, and he makes close to $8 million per season), he could have been in the top 25 as well (he has been absolutely dominant against the world's best on the international stage many times). Which Nash are the Rangers going to get?
41. Bobby Ryan
Tired of being involved in countless trade rumors, Ryan asked for a trade earlier this summer (a request he has since taken back). He has spent the last few years playing third fiddle behind Corey Perry and Ryan Getzlaf in Anaheim. In that time, Ryan has developed into one of the most dominant forwards in the league, and he comes with a reasonable price tag, too (three more years at $5.1 million per). Only seven players have scored more than his 100 goals over the past three seasons, and six of them are ahead of him on this list (sorry, Patrick Marleau).
Ryan is ready to emerge as a franchise forward, but it won't be in Anaheim. His production dropped from 71 points in 2010-11 to 57 last season. Why? He went from playing close to 50 percent of his shifts with Perry and Getzlaf to just over 35 percent. He was a victim of Anaheim's lack of depth, as they relied on him to create a second scoring line with third and fourth line talent.
_______________________________________________
THE 10 PERCENT THEORY
Stop looking at the weaknesses already
_______________________________________________
40. Phil Kessel
Kessel has heard it all in his hockey career. Bad teammate. Floater. Overrated. Overpaid. Weak defensively. Inconsistent. Fair or not, he will forever be linked to Bruins star Tyler Seguin. Type in "Kessel trade" on Google, and 267,000 results come up. Leafs GM Brian Burke boldy/foolishly traded several assets (two 1st round picks and one 2nd round pick) for Kessel back in 2009, hoping that the young American winger would develop into franchise forward to lead Toronto back to relevance.
Since coming to Toronto, Kessel has posted three consecutive 30+ goal seasons. However, his detractors have not gone away. Some point to Seguin as being a better talent (and Boston also ended up with prospects Dougie Hamilton and Jared Knight out of the trade), while others highlight the weaknesses in Kessel's game. Sure, he isn't physical, and he isn't going to win the Selke any time soon. That being said, he is one of the best pure goal scorers in the game making a very reasonable $5.4 million for two more seasons.
To highlight the mixed thoughts on Kessel, this quote came from an anonymous NHL GM earlier this year. 
"To be perfectly honest, and I don't mean this in any way, shape or form as disrespect (to the Leafs), but I don't think (Kessel) is a player most teams need on their roster."
Unless the NHL starts counting hits and blocked shots instead of goals as a measure of success, I'd gladly take the 35-goal scorer, thank you very much. Imagine what kind of goal totals Kessel puts up with a legitimate top line center (see: not Bozak, Tyler).
_______________________________________________
THE LEADERS OF TODAY (AND TOMORROW)
Captains with a capital "C"
_______________________________________________
39. Gabriel Landeskog
Landeskog was recently named captain in Colorado, becoming the youngest player to wear the "C" in NHL history. He is 19 going on 40 (not to be mistaken for 13 Going on 30), and the decision to have him succeed Milan Hejduk as captain was an easy one.
Landeskog led all rookies with 52 points last season, and he was only the second rookie in NHL history to record at least 20 goals and 200 hits in the same season (Dion Phaneuf did the same back in 2005-06). Landeskog's value doesn't come exclusvively from his offensive abilities. He has been a leader on every team he has suited up for, and as a teenager he excelled at both ends of the ice against the top competition around the league in 2011-12.
38. Eric Staal
Eric would likely have been joined on this list by brothers Marc and Jordan if it weren't for a concussion and a lack of offensive opportunity, respectively. The eldest Staal is one of the best two-way forwards in the league, and although he got off to a miserable start to the 2011-12 season, he did end up with a very respectable 70 points. Staal has played less than 80 games only once in his eight-year NHL career. While he hasn't improved upon his 100-point regular season (and 28-point postseason) in 2005-06, he is quietly one of the most effective and consistent forwards in hockey. And like Spezza, it seems as if the 27-year-old forward has been around forever.
Perhaps no forward saw his linemates improve this summer as much as Staal did. From the sounds of it, the 'Canes are going to try out a top line with Jordan flanked by Eric and Alexander Semin if and when the season gets going.
_______________________________________________
[WATCH FOR FLYING ELBOWS]
More scoring and less suspensions, please
_______________________________________________
37. Duncan Keith
It took me a while to figure out where to rank Keith on this list. Even with his impressive work ethic and fitness level, fatigue has crept into his game ever since he won the Stanley Cup, Olympic Gold, and Norris Trophy back in 2010. (Can you blame him?) He didn't fit any of my groupings (although he could give "Macho Man" Randy Savage a run for his money in the "best elbow of all-time category").
2009-10 was Keith's coming out party.. He signed a massive 13-year contract extension in December of 2009. A few months later, he was a significant part of Canada's gold medal winning hockey team in Vancouver. And a few months after that, he was hoisting the Stanley Cup over his head after recording 17 points in 22 postseason contests. His memorable year was capped off with a Norris Trophy. The only thing Keith lost that season was his teeth.
Seriously.
Chicago needs to do a better job of managing his minutes (coach-speak for playing less). And he needs to do less elbowing and more scoring.
_______________________________________________
SWEDISH TWINS
Every man's fantasy, come true
_______________________________________________
36/35. Henrik/Daniel Sedin
Trying to accurately gauge the trade value of a Sedin is a fool's errand. I want you to suspend reality a bit when reading this list, but I have to draw the line somewhere. Can you imagine reading the news one morning with the headline Breaking: Sedin gets traded?
Exactly.
The Sedins were slow to develop as NHLers, but they arrived as top line talents in 2005-06. They looked like different players. A lack of foot speed was no longer a problem, as they were now bigger and stronger and better equipped to battle through contact. They went from good to very good. But they didn't stay there long.
In 2008, the Canucks stuck the gritty and aggravating Alex Burrows on their right wing.
Coach Alain Vigneault started to give the Sedins a lot of offensive opportunities (they have led the league in offensive zone starts over the past two years). The result? Trophies, and a lot of them. Back-to-back Art Ross Trophies, a Hart Trophy for Henrik, and a Pearson for Daniel.
The Sedins also rank very high on the "did you just see that?" list because of their craftiness, ability to make ridiculous plays in confined spaces, and their telepathic ability to find each other in open ice. The NHL doesn't do a good enough job of marketing them (to be fair, they are Swedish to a fault – humble, hard-working, and soft-spoken). Imagine if identical twins led the NBA in scoring for back-to-back seasons? Or placed 1-2 in the home run race in baseball? They are both top 10 forwards in the league, but their trade value is also reflective of age (32… and 32) and the fact that their individual values are so hard to identify.
Gun to my head? Henrik. More consistent, centers typically are more important than wingers, and he trails only Jay Bouwmeester among active ironman streaks in the NHL, not having missed a game in over seven seasons.
I dare you to watch this only once:
_______________________________________________
UNDERRATED NO MORE
Earning respect the hard way
_______________________________________________
34. Loui Eriksson
With a new ownership regime in Dallas promising a return to the winning ways, it is only a matter of time until the Stars shine on the national stage again. Eriksson was voted as the most underrated player in the league by his peers last season , and right behind him was teammate Jamie Benn.
Consistency is an attribute that is overlooked as a skill when we evaluate pro athletes. A player devoid of consistency (Alexander Semin, for example) isn't necessarily lazy or lacking in worth ethic. Consistency is a skill, and it isn't something that all players possess. Eriksson, however, has it in spades.
Over the past four seasons, he has missed three games. He has eclipsed the 70-point mark three times, and has scored at least 25 goals in each season. And he has done this all while playing fantastic defensive hockey for a mediocre defensive hockey club.
He may look like a European pop star, but there is nothing cheesy about his game.
_______________________________________________
THEY WILL BE GREAT
Three young defensemen breaking out
_______________________________________________
33. John Carlson
John 'Real American Hero' Carlson earned the nickname a few years ago in the World Junior Final against the favored Canadians. Carlson scored the overtime winner, and in the process stuck a dagger through the collective heart of a nation.
In Washington, Carlson and Karl Alzner form arguably the most effective – and inarguably youngest – shutdown pairing in hockey. The 22-year-old Carlson is one of the premier defensive defensemen in the league, and he has managed to score 16 goals and add 69 points in his first two full NHL campaigns. He struggled a bit last season trying to fill in for the oft-injured Mike Green, and his defensive play slid as well (although that may have been through osmosis with Dennis Wideman as a teammate). 
32. Oliver Ekman-Larsson
Who? OEL, as he is referred to in hockey circles, is the best player you don't know about. How good is he? GM Don Maloney would hang up the phone laughing if he was offered any player ranking below him on this list in a trade (and likely a few above him, too). Ekman-Larsson is the total package on the ice. He's big, mobile, talented offensively, and rock solid in his own zone. His puck poise puts Marek Svatos to shame, and he only recently turned 21. When it comes to OEL, The Carpenters said it best: "We've only just begun."
31. PK Subban
The term "swagger" is overused when describing pro athletes, but it applies perfectly to Subban. The dynamic defenseman plays the game with confidence, and he acts the part off the ice, too. PK is going to be one of the faces of the NHL for the next decade – he is incredibly fun to watch. He is on his way to becoming one of the best open-ice hitters in the league (evidence below), and he has already arrived as one of the best interviews. The offensive production will come in due time. Over the past two seasons, he has played a lot of tough defensive minutes for an undermanned Montreal back end.
_______________________________________________
THE SHOULD/COULD-BE FRANCHISE FORWARD, PART II
Too good to not be great
_______________________________________________
30. Ryan Getzlaf
Getzlaf was a well-deserving recipient of the annual (and fictitious) 'Dany Heatley Award', given out each year to the player who accomplishes the least with the most. Possessing the size and strength of a power forward combined with the hands and shot of a finesse player, Getzlaf has developed a reputation as one of the game's most dangerous offensive talents. Never known as a goal scorer (his career high is 25), Getzlaf set a career-low mark with 11 goals and 57 points in 82 games this past season. It was his worst output at the NHL level since he produced 39 points in 57 games as a rookie in 2005-06. The questions with Getzlaf revolve around intensity and consistency – he will be playing for a new contract this season. Expect that added motivation to get him back on track.
_______________________________________________
THE $96 MILLION MEN
Friends become (very rich) teammates
_______________________________________________
29. Ryan Suter
How will Suter fair without Shea Weber by his side? The Minnesota Wild are confident that he won't miss a beat. He didn't generate the same attention league wide as his former defensive partner, but he was arguably just as effective. Suter's best attributes are his positioning and hockey sense, but he isn't a slouch in the offensive zone either. He has two seasons of 40+ points at the NHL level, and the Wild coaching staff will give him the ice time and opportunity to make it three. Look for Suter to partner up with the undersized Jared Spurgeon, who weighs about 100 pounds less than Weber.
28. Zach Parise
Like Suter, Parise's best attributes are not typical for highly paid star forwards. That isn't to say he doesn't have great speed (he may have lost a step after knee surgery a year ago) or a great shot, but what makes Parise so great is his unmatched work ethic and intensity. He rarely loses puck battles, even though he routinely gives up 20 to 30 pounds to the defensemen he faces. He is also very durable – outside of 2010-11 (the knee injury), he has only missed three career NHL games. The Wild are hopeful that a return home will motivate Parise to get back to his 45-goal, 94-point form of three years ago.
_______________________________________________
MOVES LIKE JAGR
The almost greats who are at their best when riding shotgun
_______________________________________________
27. Nicklas Backstrom
(not to be confused with Niklas Backstrom)
After scoring 33 goals and 101 points in 2009-10, the comparisons to Peter Forsberg appeared to be spot on. Backstrom doesn't have Forsberg's lust for physical play, but he is crafty, skilled, and almost impossible to knock off the puck. However, over the past two years, he has battled injury and inconsistent play. Washington fans are hopeful that new head coach Adam Oates can focus on getting more out of the offensive talents on the roster as Dale Hunter hockey revolved more around dumping the puck in and blocking shots. The 24-year-old center has 367 points in 365 career games – if this list was compiled two years ago, there is a great chance he would have placed in the top 10.
26. Patrick Kane
When he isn't crashing fraternity parties and choking people, the NHL's resident party boy is a pretty good hockey player, too. The Blackhawks have moved him from his natural position of right wing to center because they still haven't found a number two center to to place behind Jonathan Toews (that sound you hear is Dave Bolland shouting "pick me!"). Elusive is a good word to describe his game – even as a 165 pound rookie he was almost impossible to hit. Like Jagr (and Backstrom), he has been at his best when playing the Robin to a teammate's Batman (Toews in this case). At $6.3 million per season, Kane is a terrific bargain for a top line winger (or second line center).
Like Backstrom, however, his production has been in decline since 2008-09. Kane is way (way) too talented to score only 23 goals and 66 points (his totals from last season).
_______________________________________________
THE $100 MILLION MAN
Signing a deal with the Devil isn't what it used to be
_______________________________________________
There are athletes who relish being the man – Kovalchuk is one of them. Mark Messier played his best hockey outside of Wayne Gretzky's shadow. Basketball fans can see Russell Westbrook craving that role in the future. Claude Giroux made people in Philadelphia forget about Jeff Carter and Mike Richards quite quickly when he became the go-to guy.
Kovalchuk finds himself in a familiar situation this year – his former superstar teammate (and sometimes linemate) has fled town. This time, however, it is for much different reasons. In Atlanta, Dany Heatley wanted a fresh start in Ottawa (and a few years later in San Jose, too). Parise, a free agent, chose to sign with the Wild.
The Devils surprised many by winning the Eastern Conference in 2011-12. Martin Brodeur and a largely unknown defensive group were the backbone, but Kovalchuk was the heart and soul. He is one of the most dynamic talents in the league, and should replace Parise as the team's captain. The anti-Russian/European sentiment from the hockey media is not as bad as it once was, but Kovalchuk still doesn't get the respect he deserves for being one of the current (and all-time) greats. He needs only 94 goals to reach 500, and he doesn't even turn 30 until next April.
Teams can now key in on Kovalchuk more now that Parise isn't on the roster, but he is the type of player who has excelled playing with average talent in the past. In 2008-09 with Atlanta, Kovalchuk's linemates were a 21-year-old Bryan Little and 33-year-old Todd White. That season, Little scored a career-high 31 goals, and White tallied 76 points. The year, Little scored only 13 goals, and White had only 26 points. Why? For one, Kovalchuk was traded to New Jersey part-way through the season. And it's Todd White. Come on.
_______________________________________________
THE SWISS ARMY KNIVES
Young players who can do it all on the ice
_______________________________________________
24. Evander Kane
The 21-year-old winger already has a 30-goal season under his belt. He has the physical tools to score 50. Kane scored 24 goals in his first full WHL season (2007-08), and he doubled that total the very next year. He won't double the 30 goals he scored last season, but he should take another big step forward in 2012-13.
23. Tyler Seguin
For now, Seguin is comfortable playing the right wing on one of the top two lines in Boston. The natural center has yet to play the position a whole lot at the NHL level because the Bruins are one of the deepest teams in the league up the middle. Seguin will likely give the Bruins the luxury of moving David Krejci in a trade if they want to.
Seguin plays the game a lot like Steven Stamkos – he doesn't have the same shot (no one does), but he skates and handles the puck just as well.
22. Jamie Benn
It is very rare for a player drafted 128th overall in his draft year to be playing NHL hockey only two years after the fact, but that was the case with Benn. It is even rarer for said player to become the best player on an NHL team, but that is also the case with Benn. It would be the equivalent of an undrafted NFL free agent walking on to a practice squad and becoming one of the best players in a few seasons. The natural winger was moved to center largely out of necessity (Dallas was paper-thin up the middle after losing Brad Richards to free agency in 2011), and he excelled at the position. Benn played a lot of tough minutes last season, as the Stars didn't trust their other offensive center (Mike Ribeiro) in the defensive zone at all.
Benn is the total package – he can hit, fight (just ask Jarome Iginla), score, and pass. There are no weaknesses in his game. He has quietly taken over from Mike Modano as the face of the franchise, too. Benn is leading the charge for the new Stars.
_______________________________________________
THE EDMONTON OILERS, PART II
Learn to win, they will
_______________________________________________
21. Taylor Hall
Taylor Hall's skill set is unique. He is incredibly fast. He skates with reckless abandon, which has both helped and hurt him early on in his NHL career (although his most serious injury was a freak accident). Of Edmonton's quartet of young talents, Hall has the most noticeable qualities that superstars usually possess. He's flashy. He's dynamic. Like Pavel Bure, he's the type of forward who can score a goal against the flow of play. However, he has also missed 38 games in his first two NHL seasons. As a rookie, he suffered an ankle injury after falling awkwardly during a fight. His sophomore campaign was cut short with a shoulder injury.
The only thing preventing Hall from being a 50-goal scorer is Hall. He needs to pick his spots better. In junior hockey, he could use his speed to drive wide just about every time he was on the ice. However, NHL defensemen are too big, too fast, and too smart (for the most part).
Right now, when you Youtube "Taylor Hall hit," 1700 results come up. Only 900 appear when "Taylor Hall goal" is typed in. While Youtube is hardly an expert in evaluating NHL players, it does the job here.
Hall the good – he uses his speed and strength to fly past three Colorado players. Hall the bad – he leaves himself exposed for a huge hit from defenseman Ryan Wilson.
20. Ryan Nugent-Hopkins
"The Nuge" is the yin to Hall's yang. He's cerebral and deceptive. He played last season at 160 or 170 pounds, but he didn't get knocked around much. He tied for the rookie scoring lead despite missing the final 20 games. He recorded five assists in one game. The real kicker? He didn't even turn 19 until April. He also led the Oilers in scoring chances created. From an individual perspective, there isn't really much he didn't do as a rookie.
The Oilers, as expected, were an awful hockey club for the third consecutive season. However, that won't last long, even if they sign Cam Barker to a lifetime contract. Their young forwards are simply too talented to continue the losing ways.
_______________________________________________
THE PRINCES
Not ready to dethrone the King
_______________________________________________
19. Pekka Rinne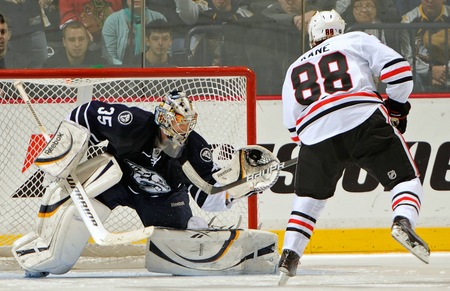 A one-timer from Brett Hull. Milos Raonic's serve. Rajan Rondo's ball fake. A Cristiano Ronaldo free kick. In sports, star players are often defined by a certain move or element of their craft. For Pekka Rinne, that would be his glove hand. Rinne has the best glove in hockey (and it isn't even close). Rinne's glove is where scoring chances go to die. Goaltending expert Kevin Woodley published a piece on Rinne's glove for In Goal Magazine. Rinne credits Pesapallo, the Finnish equivalent of baseball, with helping develop such a quick and active glove hand growing up. Predators captain Shea Weber on Rinne's glove:
"He eliminates a lot of second chances himself but smothering pucks with his glove and he's so good at catching and scooping pucks off the ice. I'd never seen it before until I started paying with him. He would scoop those pucks right off the ice if you were shooting for his far side pad. It's an unbelievable skill, because without a doubt that's a rebound on any other goalie that could possible come out for a second chance or another shot."
18. Carey Price
It's been a good summer for Montreal's franchise goaltender. Price received a lucrative six-year contract worth $39 million in early July, and he proposed to his girlfriend a few weeks later (no word on if the two were connected…). Price has faced more pressure than any other goalie not-named-Roberto Luongo over the past few years. He was a surprise pick at 5th overall back in 2005, as the logical choice at the time was Gilbert Brule (who is currently playing in Switzerland).
The Habs fell in love with Price's skill, confidence, and ability to deliver in crunch time. In 2007, he was named as WHL Goaltender of the Year, and he led Montreal's AHL affiliate in Hamilton to the Calder Cup (equivalent of the Stanley Cup), winning the MVP Trophy in the process.
He briefly lost the starting gig in Montreal to Jaroslav Halak in 2009-10, and had to win back the Montreal fan base after some ill-timed comments and inconsistent play in his first few years with the Canadiens. When Halak was traded in the summer of 2010, Price was thrown to the wolves (fancy word for Montreal media) – many in Montreal had fallen in love with Halak (and for good reason, he carried Montreal to the Eastern Conference Final in 2008). Price let his play do the talking, posting career numbers in 2010-11.
Who has two thumbs and thinks Price has a few Vezinas in his future? This guy.
17. Jonathan Quick
2011-12 was a tale of two seasons for the Kings, but not for Quick. The athletic goaltender backstopped the Kings through their early-season scoring woes. Once they figured out that the point of hockey was to score more than one or two goals per game, they never looked back. Quick outdueled Roberto Luongo, Cory Schneider, Jaroslav Halak, Brian Elliott, Mike Smith, and Martin Broduer on the way to capturing the Conn Smythe and Stanley Cup.
Before this season, the 26-year-old had been hearing the whispers regarding prized prospect Jonathan Bernier. Bernier was supposed to be the future of goaltending in Los Angeles. Quick wasn't going to go down without a fight, and he didn't even let Bernier get a sniff of the starting position.
Quick's now-infamous celebration speech would have made Kenny Powers proud:
_______________________________________________

(de-fence) 
_______________________________________________
16. Kris Letang
Pound for pound, there aren't many hockey players stronger than the 5-11, 200 pound Letang. He isn't the best player on Pittsburgh (or the second best, for that matter), but he is arguably the most important. He drives the offense from the back end with his speed, aggressiveness, and anticipation. He's also very solid defensively, relying on the previously mentioned aggressiveness to battle with much bigger opposing forwards. If healthy, Letang would have contended for the defensive scoring crown last year – he posted 42 points in only 51 games (66 points over a full season).
He has terrific chemistry with Sidney Crosby (not many players don't, to be fair), especially on the power play. With no holes in his game, he is a true #1 defenseman. The debate of what makes up a #1 defenseman rages on throughout the hockey community. To me, it is a defenseman who can defend, score, cover for his partner's mistakes, and log heavy minutes in all situations. Playing with a physical edge is nice, but not a requirement (see: Lidstrom, Nick).
His off-season training regimin is the stuff of legends, too:
15. Erik Karlsson
Karlsson won the Norris Trophy last season after lapping the field in terms of defensive production. His 78 points was 25 more than second place (a tie between Dustin Byfuglien and Brian Campbell). Karlsson has been compared to Mike Green with how he can control a game with his skating and offensive creativity, and some are wondering if he will quickly fall off like Green did. Green's demise can be attributed to two things – a change in team philosophy, and injuries. The Capitals decided to ditch their run-and-gun playing style for a defensive approach, and Green struggled to adapt. Green also loves to hold on to the puck until the last second, which invites a lot of physical contact his way.
Karlsson isn't Mike Green. The Ottawa Senators aren't a run-and-gun team, and he doesn't get hit nearly as much as Green did/does. Green got to play with Ovechkin back when he was good, and a supporting cast with Alex Semin and Nick Backstrom. Karlsson plays with Jason Spezza and…?
Green relied a lot on the power play to record his points, playing over five minutes per game with the man advange in 2008-09 and 2009-10. Karlsson played less than four minutes per game on the PP last season, and two minutes more at even strength than Green did in either of his standout campaigns. There are less penalties being called now than there were from 2008-10, but Karlsson isn't as reliant on special teams to create offense. The Capitals gave Green pretty easy matchups – he routinely saw the second and third offensive units of the opposing team. Karlsson had to face much tougher competition. He won't ever be mistaken for Weber or Chara, but he can hold his own defensively. 
14. Alex Pietrangelo
Pietrangelo has amassed 84 points in his first two NHL seasons. Like Letang, he has all of the attributes of a #1 defenseman. However, he is 6-4 and 210 pounds. He isn't as physical as Letang, but he uses his size very effectively to separate opposing players from the puck. He was selected 4th overall in 2008, and the Blues allowed him to develop at the OHL level for two more years. Patience is a virtue, as they say. He has one year left on his rookie deal, and the Blues will gladly open the bank vault to get him locked up long term next summer.
Just as Price would be my choice for multiple Vezina Trophies, Pietrangelo would be my guy for the Norris. The only thing holding him back from being mentioned among the NHL's elite is experience.
13. Drew Doughty
Doughty made the NHL as an 18-year-old back in 2008, and he has missed only 14 games since. After posting 59 points as a sophomore, many were labelling him as the next Ray Bourque. The reasons for the comparison were obvious. Both defensemen have bodies built for hockey (it took Doughty some time to unearth his after struggling with weight issues in junior, though). Neither Bourque or Dougthy are tall by any means, but both have strong lower bodies and fluid skating strides.
Doughty is one of the best two-way defenders in the game. Last season, he made up one half of the shutdown pairing (along with partner Rob Scuderi) on one of the league's stingiest teams.
Yeah, he's good.
_______________________________________________
THE FOUNDATION FORWARDS
You can build a team around these guys
_______________________________________________
12. Corey Perry
Perry's 2011-12 season was a disappointment, especially compared to his performance just one year previous. He literally carried the Ducks on his back down the stretch in 2010-11, scoring 19 goals in the final 19 games. Perry's exploits earned him a 50-goal season, a Rocket Richard Trophy as the league's top goal scorer, and a Hart Trophy as the league's most valuable player. He scored on over 17 percent of his shots – well above his career mark of 12.7. This past season, he scored only 30 goals and 23 assists. Getzlaf's struggles carried over to Perry, and the two Ducks superstars didn't have much help behind them in the lineup.
Like Getzlaf, Perry is signed to a very cap-friendly contract. And also like Getzlaf, Perry is set to become a free agent next summer. What separates Perry from other prolific goal scorers is how he gets his goals. He is dirty, chippy, and fearless. He scores highlight reel goals, but he also gets his fair share of garbage goals and rebounds. He is equal parts agitator and pest, and opposing defensemen hate playing against him.
Is Perry a 50-goal superstar? Probably not. He's streaky. Most athletes are. However, he is one of the most well-rounded players in the game. And he's proven a lot of critics wrong along the way. Many teams passed on him during the 2003 draft because they felt his poor skating was going to prevent him from excelling at the NHL level.
Not many players can anger Pavel Datsyuk:
11. Jonathan Toews
Like Gabriel Landeskog, Toews was born to be a captain. Chicago gave him the "C" at the start of the 2008 season at the age of 20. Less than two years later, he was hoisting the Stanley Cup over his head. Toews is a lot like Logan Couture, who was selected as an honorable mention for this list. He does everything well, and that sometimes makes him a forgotten man when people discuss the best players in the league. He's strong, a great skater, and solid defensively. He is also capable of pulling off moves like this:
Captain Serious, as he is affectionately referred to by his teammates, is one of the most well-rounded athletes in the sport. I remember watching him make his debut for Canada's junior team at the age of 17. He didn't dominate, but you could see why scouts were so excited about his future. He made smart plays with and without the puck, he used his teammates effectively, and he bought in to the team concept. Simply put, Toews "got it" from a young age. The story behind his nickname is worth the read, too.
10. Anze Kopitar
I remember sitting at a friend's house watching the Sidney Crosby draft (2005). The Canucks had secured the 10th overall pick in the lottery, and they had needs at both defense and center. After Crosby went 1st overall to Pittsbugh, there were a few surprises. The San Jose Sharks traded up to draft Devin Setoguchi at pick eight. Ottawa took defenseman Brian Lee one pick later. Kopitar, billed as the top European heading in to the draft, was sitting there when the Canucks came up to draft.
We all know what happened next. The Canucks took defenseman Luc Bourdon (who was tragically killed in a motorcycle crash back in 2008). Bourdon was on his way to becoming a solid NHL defenseman, but Canucks fans wanted Kopitar. Hindsight isn't 20/20 with this one – fans of many teams who picked in the top 10 were hoping for Kopitar. The only knock on Kopitar was his birthplace. Slovenia was hardly known as a hockey hotbed, and that seemed to scare scouts away. Los Angeles counted their lucky stars when he was still around at pick 11.
Kopitar is now one of the best two-way centers in the league. He dominates with his both his size (6-4, 220, but he looks even bigger on the ice) and skill. He is arguably the best defensive center who plays on his team's top line. He has scored 25+ goals in five of his six NHL seasons. He has never recorded less than 60 points. And now that he has the luxury of a center like Mike Richards playing behind him, teams are not able to key on him as they once were.
_______________________________________________
LIFE AFTER LIDSTROM
Who steps up to replace The Perfect Human?
_______________________________________________
9. Zdeno Chara
Chara's work ethic is legendary. He has his own set of keys to the Bruins practice facility so he can come in early and stay late working out. He is 6-9, 270 pounds, and 10 percent body fat. He has the size of an NFL lineman with the coordination of a defensive back. Each stick of his takes three trees to make (not really, but I bet it comes close).
The Boston Bruins made one of the best decisions in franchise history when they  signed Chara as a free agent back in 2006. Since that time, he has been arguably the best defenseman in hockey. Chara has seven straight seasons of at least 40 points. He is almost impossible to beat one-on-one (or two-on-one, as the Sedin twins found out during the 2011 Cup Final).
Chara is the only player above the age of 31 to rank in the top 10 (he's 35). However, if I am building a team to win a cup in the next few years, he's the defenseman I go with. He is also a member of a not-so-exclusive club – NHL stars who have been traded away by Mike Milbury (Chara and Jason Spezza were sent to Ottawa in exchange for Alexei Yashin many years ago).
8. Shea Weber
Weber is primed to take over from Lidstrom as the best defenseman in hockey, and you couldn't find two more opposite defensemen. Lidstrom was graceful and elegant. He relied on his superior hockey sense and ability to use every inch of the ice rink to his advantage. Weber isn't a slouch in terms of positioning, but he is effective because he is so big, so strong, and such a presence on the back end.
He can run a power play as good as any other defenseman in the league. He's as physical as they come (just ask Henrik Zetterberg), he can anchor a penalty kill, and he is a born leader. Weber's contract is a huge one thanks to Flyers GM Paul Holmgren, but his cap hit of $7.8 million is quite reasonable for a franchise defenseman.
_______________________________________________
THE KING
He won't be leaving the building for a while
_______________________________________________
7. Henrik Lundqvist
The best goalie in the league has been the backbone in New York for the past seven seasons. He won his first Vezina in 2012 after being nominated on three previous occasions. He backstopped Sweden to a gold medal back in 2006. He has been the Rangers MVP for the past six seasons, and is a three-time All-Star. He bails out the Rangers defense when they make mistakes, and he does so with incredible consistency. Goaltenders come and go from year to year, and Lunqvist's ability to deliver an elite level of play on almost every night makes him an extremely rare commodity.
Not much else needs to be said. He's the best goaltender in the league and it isn't really close.
_______________________________________________
THE ALMOST FRANCHISE FORWARDS
My crystal ball shows a lot of hardware in the future for these two
_______________________________________________
6. Claude Giroux
Claude Giroux is the perfect example of a a player being more than the sum of his parts. He isn't big, he isn't fast, and he doesn't stand out with his strength or physicality. This led to him falling to pick 22 back in 2006. However, he plays hockey better than almost anyone else on the planet. He is a poor man's Crosby (a comparison Flyers fans may not want to hear). He competes hard, he excels in big games, and he makes his linemates and teammates better.
He was the best player in the league last season outside of Pittsburgh. Giroux helped Jaromir Jagr drink from the fountain of youth, and he helped winger Scott Hartnell show he is more than a grinder and a pest.
He told coach Peter Laviolette to get him on the ice for the first shift of Game 7 against Pittsburgh this past April. "The Shift" was born.
5. John Tavares
The second most famous JT has transformed from a one-dimensional scorer to one of the best players in the league in only a few seasons. He has embraced the role of leader and face of a franchise, and he has one of the most cap-friendly contracts in the league. Tavares will be getting paid $5.5 million for the next six seasons. He's already outperforming that contract, and it hasn't even kicked in yet.Tavares is the kind of talent who could score 30 playing with scrubs. He's much bigger and stronger than he was as a rookie, and he can beat goaltenders in a number of different ways.
His first three NHL seasons would make for a great case study in consistent improvement. As a rookie, he recorded 54 points in 82 games. The next season he scored 29 goals and 67 points in 79 games. And in 2011-12 he took another step forward, with 31 goals and 81 points. He lost linemate PA Parenteau to free agency this summer, and the Islanders are hoping reclamation project Brad Boyes can slide in alongside Tavares and Moulson.
_______________________________________________
THE ONCE FRANCHISE FORWARD
Once the class of the hockey world, he needs to get his mojo back
_______________________________________________
4.  Alex Ovechkin
Things change quickly in hockey.
Only two years ago, Ovechkin was putting the finishing touches on his third consecutive 50+ goal season. There wasn't any argument – he was the most dominant player in hockey. However, Ovechkin hasn't hit the 40-goal mark in either of the past two seasons, and he recorded a career-low 65 points in 2011-12. He struggled to adapt to Dale Hunter's gritty, defensive style of hockey, and he saw both his role and ice time diminish dramatically under Hunter.
It is very likely that we have seen the best from Ovechkin (65 goals and 112 points in 2007-08). He was the catalyst behind Washington's emergence as one of the league's premier franchise. He was also the first player in history to be voted as a First Team All-Star in each of his first five seasons in the league.
His struggles in recent years can be attributed to a few things – a lack of focus and accountability in Washington, off ice distractions, trying too hard to live up to his contract, and the pressures that come with wearing the C.
All that being said, there was no chance he was going to see his trade value fall past number four. He can get it all back with a strong season under new head coach Adam Oates.
Things change quickly in hockey.
_______________________________________________
THE FRANCHISE FORWARDS
The cream of the crop
_______________________________________________
This was the easiest part of the list to compile – there was no debate as to who the top three players in hockey are. The order wasn't difficult to arrange (for me, at least), but I know the Stamkos or Malkin debates have become legendary over at DobberHockey.
Stamkos and Malkin both benefit from great linemates. For Stamkos, that has been Martin St. Louis. For Malkin, that has been Sidney Crosby and most recently James Neal.
3. Steven Stamkos
Stamkos dominates with his speed, power, and one-timer. His shot is as good as it gets, and NHL teams are hopeless in trying to stop it. Teams know exactly where he is going to be on the ice, but they still can't do anything about it. He has a lot of Brett Hull in him in that regard.
Stamkos is durable. He works his butt off each summer training with Gary Roberts, and the results are obvious. He is much stronger than he was a few years ago, and that allows him to create separation from opposing defenders. He hasn't missed a game in three years. Oh, and he is still only 22 years old.
2. Evgeni Malkin
When he is at his best, there isn't a hockey player as magestic as Malkin. He skates like Sergei Fedorov. He protects the puck like Jaromir Jagr. And he beats defenders one-on-one like Mario Lemieux. He has a Conn Smythe to his name, and 81 career playoff points in only 68 games. So why isn't he number one on the list?
Injuries. In his past three seasons, he has played in only 75, 43, and 67 games, respectively. His lanky frame makes it tough to take the puck from him, but it also leads to some bumps and bruises. And not to play the typical Russian enigma card, but Malkin has been prone to stretches of inconsistent play. He has played his best hockey with Crosby out of the lineup (last season, for example), as he seems to thrive when he has the pressure of being the go-to-guy on his shoulders.
This goal, scored only a few weeks into Malkin's NHL career, was a sign of things to come.
In the end, it really is a toss up. Both players have a lot of pros and very few cons.
1. Sidney Crosby
If the Penguins are comfortable giving Crosby a 12-year contract extension with no insurance coverage in the event of another head injury, then I am comfortable ranking him at number one. He's the best player in hockey. Even die hard Flyers fans would have to agree with that. What makes him so good? The little things. Crosby seems to think the game a few steps ahead of everyone else. He is a great skater and very hockey strong (core and lower body), and he has a good shot. But that isn't what makes him special.
Like Gretzky, he routinely makes plays that most other players can't even comprehend. He can catch passes off his skate and bring it to his stick in a matter of seconds. He knocks down wayward shots and passes like he is swatting a fly. He is equally adept at making plays on his backhand as he is his forehand. Like Dwayne Wade, he's shifty and deceptive. He changes speeds to create separation. He skates like a figure skater, using his edges to pivot and turn on a dime.
Just ask Jason Spezza.
He had the pressure of a team, city, and league on his shoulders when he made his debut with Pittsburgh in 2005. He surpassed even the wildest expectations, winning multiple awards, being named team captain, winning a cup, and helping the Penguins secure the funding for a new arena. The recent concussion issues temporarily put a halt to his promising career, and a lockout every eight years won't help him move up in the records books, either.
Crosby appears to be fully healthy, and a few more months of training won't be the worst thing in the world. He's the face of hockey and the best player in the league. Now if only he could grow a better beard….