Is Crosby still number one? Where does Ovechkin slot in? Lundqvist? Kessel? Datsyuk? Read on for my second annual Top 50 NHL Trade Value Rankings.
Before we get started, I want to acknowledge a few websites that were of great assistance. Stick taps to Behind the Net, Hockey Abstract, DobberHockey's Frozen Pool Tools, Hockey Analysis, and of course the invaluable resource known as CapGeek.
As I wrote last year, things can change a lot in 12 months. Heck, it was only three or four months ago that we had written off Alexander Ovechkin completely. Now he is a finalist for the Hart Trophy and once again considered as one of the most dominant offensive forces in hockey. The abundance of movement from last year to this year among the top 50 players reflects the ever-changing landscape that is the NHL. And one more stick tap to Bill Simmons, who has been publishing his top 50 NBA trade value rankings for the past 13 years. He's a very entertaining writer, and I borrowed his criteria when putting this list together. Now I just need to find a way to get this list published at Grantland.
A reminder of said criteria:
Contracts matter. (Just ask Roberto Luongo.)
All else equal, the lower the salary cap hit, the higher the trade value (especially with the NHL dropping the salary cap to $64.3 million for 2013-14). I looked primarily at the cap hit and not the actual salary amount or signing bonus amount. The fact that Shea Weber will receive a check for $13 million on September 1st of this year (and in 2014 and 2015, as well) is largely irrelevant to his ranking.
Thanks to the Lockout 2.0, NHL clubs are allowed to move or retain salary in player transactions, which makes overpaid players a bit more palatable to other teams (and more valuable in general) than under the old CBA. Jussi Jokinen cleared waivers last season (even though a half-dozen inferior players will get bigger contracts this summer), but the Penguins traded for him after Carolina offered to retain a portion of his salary.
Age matters.
Nail Yakupov isn't a better player than Martin St. Louis. But the fact that St. Louis was 18 years old when Yakupov was born… well, that matters. With age comes experience, but in a sport like hockey, players typically peak between the ages of 23 to 27. That doesn't mean a player can't be productive well into his 40s (see here, here, here, or here), but that is far from the norm.
Team depth charts are (largely) irrelevant for these rankings.
Pretend you are starting a team from scratch and go from there. For example, the Montreal Canadiens aren't likely to value Henrik Lundqvist over Ryan Getzlaf or Jamie Benn, as they already have Carey Price as their starting goaltender.
Positions matter.
As Canucks GM Mike Gillis has found out, goaltenders aren't as valued as players. Teams are more comfortable developing goalies from within or scouring Europe for the next hidden gem. That doesn't mean that a goalie isn't as vital to on ice success – on the contrary, in fact. A great goaltender can make all of the difference in many situations. Look at Sergei Bobrovsky's impact in Columbus. But in terms of trade value, Bobrovsky was acquired for a few draft picks.
The list runs in reverse order.
If Los Angeles calls up Boston and offers Drew Doughty for Tyler Seguin, the Bruins would very quickly accept that trade. But if the Kings offered the same trade to New York for John Tavares, the Islanders would pass.
As I wrote above, a lot can change in a year. Players get hurt. They regress. They surpass expectations. They are traded. They aren't. Even more of a focus was placed on contracts this year. And I received a lot of feedback from last year's list. I will fully admit that I made one glaring omission – Patrice Bergeron, who is one of the best forwards in hockey.
And unlike last year, I didn't go out of my way to group similar players together this time around. If there is a run of three or four young defensemen in a row, it is purely coincidental. This (hopefully) has led to more accurate rankings from 50 through to Sidney Crosby (oops, spoiler alert).
The Columbus Blue Jackets didn't have a player on last year's list, and they still don't in 2013. But as a team, they are headed in the right direction. Team President John Davidson is one of the smartest men in hockey, and GM Jarmo Kekalainen's track record at the draft table in Ottawa and St. Louis speaks for itself. Give it a year or two, and there will be at least one Jacket on this list (likely smooth-skating defenseman Ryan Murray).
Two other teams also failed to have a player crack the top 50 or honourable mentions (Canadian for honorable mentions) – Calgary and Buffalo. The Flames and Sabres are at different stages of organizational rebuilds (Calgary just beginning, and Buffalo… who knows), and the lack of star power (sorry Thomas Vanek) reflects that.
Let's get to a few honourable mentions, with a note or two on why each of them ended up on the outside of the top 50 list.
But first, a look back to last year's almost-made-its.
The Honourable Mentions from 2012
Jonathan Huberdeau (slides into the top 50 after a strong rookie season)
Mikael Granlund (struggled as a rookie, still lots of upside)
Jacob Markstrom (once again a very honourable mention)
Miikka Kiprusoff (likely headed for the golf course, or whatever retired players do in Finland)
Ryan Miller (2010 was a long time ago…)
Marty St. Louis (was the toughest omission from this list)
Dustin Brown (honourable mention again)
Ryan Kesler (honourable mention again, largely due to injury problems)
Keith Yandle (trade bait this summer, could end up in a great situation)
Logan Couture (Toews-lite is on the list this year )
James Neal (honourable mention once again)
Ryan McDonagh (one of the best defensemen in hockey and due for a hefty raise this summer – let's hope his agent sees where I have him ranked)
Mike Smith (great goalie, but a UFA and apparently asking for big dollars)
Joe Thornton (his best days are behind him, but still very good)
2013 Honourable Mentions:
The entry-level contract is one of the most valuable assets in the NHL. Having a rookie making a million (or less) while contributing allows a team to spend its scarce cap dollars elsewhere. The best of these players who didn't make my list – Mark Scheifele and Jacob Trouba (Winnipeg), Ryan Strome (NY Islanders), Dougie Hamilton (Boston), Vladimir Tarasenko (St. Louis), Justin Schultz (Edmonton), and Jake Gardiner (Toronto) all have tremendous trade value. But with all young assets comes the inherent risk – what if they don't develop as hoped?
Justin Faulk – Carolina Hurricanes 
Faulk does all of the heavy lifting for a horrid defensive group in Carolina. He's only 21 years old and already a  top pairing defenseman. Look for him to anchor the American defense in Sochi next February. The offense will come when (or if) he doesn't have to clean up after Joe Corvo and Jamie McBain any longer.
Brad Marchand – Boston Bruins
The best pest in hockey has quietly developed into a fantastic two-way player as well. His reasonable $4.5 million per extension kicks in this summer. That can help pay for his bar tabs, hopefully.
Max Pacioretty – Montreal Canadiens
I wrote an extensive profile on Pacioretty last summer. And I interviewed his trainer a few months ago. He's built like a truck and has no weaknesses in his game. I'd like to see a bit more offensive consistency before knocking someone out of the top 50 for him, though.
Matt Moulson – NY Islanders
Criminally underrated and one of the best pure scorers in hockey. He's money in the bank for 30 goals (and none of them from further than five feet away). He also makes more than a million bucks less than Ville Leino (Pegula'd).
Derek Stepan – NY Rangers The Swiss army knife forward has quickly played himself into John Tortorella's good books (the exact opposite location of one Larry Brooks). Stepan has earned his coach's trust because of how he plays – he's dependable and reliable in all three zones. That isn't meant to take away anything from his offensive game, either. If 2012-13 wasn't cut short due to the lockout, he likely would have approached the 80-point mark. Oh, and he's an RFA this summer.
Jonas Brodin – Minnesota Wild
Besides having a last name that is Swedish for bro (which may not be true…), Brodin anchored one of the best defensive pairings in hockey alongside Ryan Suter. The fact that he, the league's best rookie, wasn't even a finalist for the Calder Trophy says all you need to know about the voting process.
Bobby Ryan – Anaheim Ducks
The (relatively) inexpensive third wheel in Anaheim is locked up for two more years at $5.1 million per. Ryan had a poor offensive season in 2013, scoring only 11 goals in 46 games. He's been involved in just about every single trade rumour over the past two years. Perhaps this is the summer that something finally happens?
Jordan Eberle – Edmonton Oilers
After scoring 34 goals as a sophomore in 2011-12, most expected Eberle to take another step forward in 2013. He didn't, as his shooting percentage (18.9 in 2011-12 and 12.0 in 2013) normalized. He's phenomenally talented and one of the best first-shot scorers in hockey, but now that his rookie deal has expired and his $6 million per extension is kicking in, he isn't a cap bargain any longer.
James Neal – Pittsburgh Penguins
Neal is a phenomenal player who has a goal scorer's touch. There are simply 50 more valuable players than him in the league (and no, Dallas fans, none of them are Alex Goligoski unfortunately).
Dustin Brown – Los Angeles Kings
Dustin Brown is many things. To Kings fans, he is a hard-hitting and talented player. To his teammates, he is their leader. To opposing fans and most people with two working eyes, he is a diving cheapshot artist. Whatever your opinion of him, he is a really effective hockey player.
Ryan Kesler – Vancouver Canucks 
Speaking of diving, Kesler narrowly misses the list for a second consecutive year. When he is healthy and angry, there aren't 50 better players than him (in fact, there may not be 10). Unfortunately for the Canucks, Kesler's 'beast mode' was visible for about 35 minutes in 2013 (Game 2 against the Sharks). He is a fearless player who leaves it all out on the ice, but will that lead to a shortened playing career?
Jacob Markstrom – Florida Panthers
The best young goaltender in hockey had a very solid rookie season for a subpar hockey team. Markstrom is lightning-quick in goal, and he's 6-6 and 200 pounds. As Notorious B.I.G. once said, the sky's the limit.
Cory Schneider – Vancouver Canucks
Schneider falls from the top 50 list. Why? He was arguably Vancouver's MVP in 2013, and he's locked up to a very cap-friendly contract. Well, for one, the Canucks still haven't figured out what they are going to do with Roberto Luongo. And for two, the NHL goaltender market will be flooded with talent this summer (Ryan Miller, Luongo, Mike Smith, potentially Marc-Andre Fleury). Schneider didn't exactly inspire confidence with his performance in Games 3 or 4 against the Sharks, either.
John Carlson – Washington Capitals
Carlson also falls out of the top 50. Like many of his teammates, he got off to a rough start in 2013. Not to forget, Carlson is only 23 years old and a proven top pairing defenseman. And he doesn't have his trusty sidekick by his side any more, either.
Loui Eriksson – Dallas Stars
Another player who dropped off the top 50 list is the quiet and unassuming Swede. Eriksson is a versatile winger who can check opposing stars and drive possession, but he was very uncharacteristically inconsistent for much of 2013. The Stars need to do a better job of surrounding him with talent. He's not a player to build a team around, but he does a great job complimenting others. His contract ($4.25 million per for three more seasons) is a fantastic one for the Stars, too. After watching him dominate the World Championships as the third Sedin, I wonder if Mike Gillis will be phoning Jim Nill any time soon?
Jason Spezza – Ottawa Senators
If hockey players were allowed to skate around in giant inflatable bubbles to avoid injury, Spezza would be in the top 30 or 40 on this list. He's a truly elite offensive talent who has really improved his defensive game and embraced the role of leader on a young (and pesky) Senators squad.
Marian Gaborik – Columbus Blue Jackets 
Gaborik waiving his no trade clause to go to the Jackets meant two things – one, the Blue Jackets are no longer a doormat of the NHL, and two, Gaborik really hated playing for John Tortorella. He's an all-world talent, who, like Spezza, struggles to stay healthy. His latest injury (groin/abdominal) is very similar to his previous injuries. His skating stride is so powerful, it makes me wonder if his legs and/or torso are going to completely give out on him at some point?
Rick Nash – New York Rangers
Great player. Big contract. If I write the third annual list during or after the Olympics at Sochi next year, I may have to find some room for Rick Nash, who transforms into a hockey-playing version of the Hulk when he dons the Canada sweater. He's going to score 40 next year for the Rangers, and it is a bit surprising that he has hit that number only twice in his 10 year career.
Martin St. Louis – Tampa Bay Lightning
As I said above, this was the toughest omission. Two more years at $5.6 million per season for the most recent Art Ross winner? Age really is just a number for Marty, who turns 39 this summer. He's an absolute beast in the gym. He has played a major role in the emergence of Steven Stamkos. He's a natural leader, a playmaker, a sniper, and an energy forward. But best of all is the fact that every undersized player can look to him as a guy that beat the odds with will and skill.
And now, let's get to the top 50. Grab a beer, pour some coffee, and settle in. The 2012 ranking is listed in brackets.
The wizard of the NHL
Now you see him… now you don't
50.  Pavel Datsyuk (44)
Why did he fall? Surely not because of this. Or this. Or this. Datsyuk is the most purely talented hockey player on the planet. He's like an orchestrator on the ice, getting the puck, his teammates, and his opponents to do what he wants with a flick of his wrists. He's more dangerous on his backhand than 99.9% of hockey players (only Crosby gets the nod here) are on their forehand.
Datsyuk had 49 points in 47 regular season games this past season. He turns 35 this summer and there are rumours he may return to Russia next summer after his contract expires. And those are the two major reasons for his tumble down the rankings.
I think I speak for all hockey fans when I say… don't go, Pavel.
Don't forget about us
No longer elite… but still very good
49. Daniel Sedin (36) 
48. Henrik Sedin (35)
The Sedin twins may no longer be elite, but at the age of 32, they turned in arguably the finest season of their careers from a two-way perspective. Without Kesler for much of the regular season, the Canucks were essentially a one-line team. And that meant that Henrik and Daniel were relied upon to do more than rack up goals and assists.
Unlike most other professional athletes, the Sedins don't rely on their physical gifts (strength, speed, power) as much as their mental ones (intuition and instincts) to excel. As long as they don't lose the passion to play, they should be able to remain as productive players for a while. It is a difficult to task to accurately rank their values individually, as they play together – always have, and always will. Daniel missed time with a broken foot a few years ago and Henrik was still terrific without him, but a large part of what makes them so good is each other.
The $100 million man
(needs some help)
47. Ilya Kovalchuk (25)
In his own words, 2013 wasn't a very good season for Kovalchuk. He turned 30 this past April, and is only 83 goals away from 500 for his career. He'd probably be 10 or 20 away if it weren't for the past two lockouts. The Devils missed Zach Parise a lot this season, obviously. And Kovalchuk had to contend with lingering injury issues for much of the season. He's owed $6.66 (the Devils, naturally) million per season until 2025, although he will very likely retire in 2020, when his per-season salary drops from $4 million to only $1 million.
Look for him to bounce back in 2013-14 with a fully healthy shoulder and a (hopefully) better supporting cast. Ignoring the length of his contract, his cap hit is very reasonable for a top line star.
Where pucks go to die, part I
The best glove hand in hockey has some competition
46. Tuukka Rask's glove (and the rest of his game, too) (48)
There isn't a goaltender in hockey that combines athleticism with technical proficiency was well as 'Cool hand Tuuk.' Pekka Rinne has long had a stranglehold on the title of 'best glove in hockey,' but Rask is coming for his title.
Open late, now serving crow
He may not like the media, but he sure loves scoring goals
45. Phil Kessel (40) 
Good on Kessel for proving his doubters wrong. He is a playoff performer (13 goals in 21 games), and he had a fantastic Game 7 against the Boston Bruins, too. Kessel is one of the best pure snipers in hockey, and there aren't any other players in hockey who can back off a defense with just the threat of a wrist shot from 25 or 30 feet out as well as he can. The rest of his game has improved significantly  too. Kessel is an underrated playmaker and he isn't a liability defensively any longer.
So, why does he slide down six spots on the list? Contract. He has only one year left on his current deal before he hits the open market. And because he is such a good player, he isn't going to come cheap to Toronto (or any other potential suitors).
Captain clutch
Life after Lidstrom going pretty well
Since 2002, no NHL player has more postseason points than Zetterberg. He is a phenomenal two-way player, and he led the Red Wings into unchartered territory in 2013, entering a world without Nicklas Lidstrom on the back end. Zetterberg scores big goals, he's physical and gritty, and he loves matching up against opposing stars. He's under contract for the rest of his career. And he has an awesome playoff beard.
Future captain clutch
A year of learning
43. Gabriel Landeskog (39)
If nothing could go wrong for Landeskog as a rookie in 2011-12 (22 goals, 52 points, a Calder Trophy win, and a phenomenal two-way season), than everything did  in 2013. The Avalanche, simply put, were awful. I guess that's what happens when your defensive core features one top four defenseman and a bunch of bottom pairing guys. Oh, and playing hardball with your best forward can't help, either. Landeskog missed an extended period of time with a concussion, and his leadership was really put to the test in a very trying season.
Colorado has brought in Joe Sakic to run the hockey operations, and a new coach is on the way, too. Landeskog doesn't even turn 21 until this fall, but he has a year of captaincy under his belt. And he quickly learned about the responsibilities that come with that.
Kladno's next superstar
Jagr's legacy continues on
42. Jakub Voracek (not ranked)
Voracek was born in 1989. Jagr made his NHL debut in 1990. The two Czech wingers have a lot more in common than their hometown, though. Like Jagr, Voracek is a very powerful skater who opposing defensemen struggle to separate from the puck. And, also like Jagr, he has a fantastic head of hair.
Voracek was Philadelphia's best player in 2013, by far. He has a ton of upside, and his 46 points was only four off of his career-best mark of 50 (and in 31 less games). He's a legitimate top line talent locked up to a $4.25 million per contract for three more years.
All about the Benjamin$
Too talented to be ranked this low
41. Eric Staal (38)
The most talented of the four Staal brothers, Eric actually had a pretty good 2013 season if you go by the numbers. He led the NHL in even strength points, and he anchored one of the best offensive units in the league with wingers Jiri Tlusty and Alexander Semin. 53 points in 48 games… and he needs to be better? What gives? This. He's paid $500,000 less than Sidney Crosby.
The not-too-distant-future greats
The future may be now for these two
40. Jonathan Huberdeau (not ranked)
Huberdeau scored 14 goals in 48 games at the age of 20. He has two more years left on his rookie contract (also known as the most valuable asset in hockey), and he is guaranteed to have some talent on his line for the foreseeable future. Florida has the best collection of prospects in hockey, most notably centers Nick Bjugstad and Drew Shore. Huberdeau played some center in junior but he is a left winger at the NHL level. He has the talent and upside to develop into a consistent Vincent Lecavalier (the man once called the Michael Jordan of hockey) in a few years.
39. Alex Galchenyuk (not ranked) 
Montreal hasn't had a superstar forward since Guy Lafleur (with honourable mentions to Saku Koivu and Kirk Muller). Galchenyuk will be that guy. He's already a strong two-way forward, and he just turned 19 a few months ago. It won't be long before he is centering Montreal's top line (with Brendan Gallagher, also known as the Little Ball of Hate 2.0, on his right wing). And he was born in 1994. Let that last one sink in.
A damn good d-man
Controls the game, but where has the offense gone?
38. Duncan Keith (37)
It is quite obvious that Keith will never top his spectacular 2009-10 season (69 regular season points, a Norris Trophy, a Stanley Cup, and 17 postseason points). But is he going to break the 50-point mark again? He logs tough minutes against top opposing stars, and he has a lot of elite hockey left in his legs (he turns 30 this summer but keeps himself in phenomenal shape).
For $5.5 million, you won't find many defensemen who can do what Keith does on a nightly basis. He usually lets his play do the talking (and he should remember that).
Our goaltending is better than yours (isn't it?)
The reigning Conn Smythe winner is finding his form… just in time
37. Jonathan Quick (17)
Quick has been sensational over the past month or two. He was sensational when it mattered most in 2012, as well. He's really fun to watch, and he is what the hockey analysts call a "battler" in goal. He competes for every single puck fired his way, whether it is looking under/over/around screens, or relying on his incredibly quick legs to cover the lower half of the net. 
He has the hip mobility of a body contortionist, and that allows him to splay out on the ice while still covering a lot of the net. Sorry Felix, but Quick is more deserving of the nickname "the Cat."
Quick is locked up for the next decade with a very reasonable cap hit. Valuing goaltenders and players together wasn't easy, and for the most accurate rankings, it would probably best be done with two separate lists. Goaltending can win Stanley Cups, as we saw with Tim Thomas in 2011 and Quick last season. But even elite goaltenders aren't as valued as elite players. Why? For one, there are only 60 NHL goaltenders (it was 59 for a few years, but Steve Mason may salvage his career yet), and there are 600+ skaters. The variance from the top skaters to the average ones is a heck of a lot bigger than from the top goalies to the average ones.
The missing piece
One trade to rule them all
36. Jeff Carter (not ranked)
The Los Angeles Kings robbed Columbus blind with the Carter trade a year ago. Jack Johnson is a fun player to watch, but the fact that the Kings were able to pick up Carter, one of the best goal scorers in hockey, and at the same time promote Slava Voynov, who is a vastly superior defenseman to Johnson, speaks to Dean Lombardi's talents as a GM.
Carter gives the Kings a go-to scorer. Not many teams have the luxury of placing a player of his talent level on the second scoring unit. He's big, he shoots right, he's physical when necessary, and he shoots the puck a ton. That is a recipe for offensive success in the NHL. Carter signed one of those lifetime contracts, so his cap hit is a very reasonable one for the duration of his playing career.
Where pucks go to die, part II 
Rinne needs a fresh start after a subpar 2013
35. Pekka Rinne (19)
Rinne slides down the for two reasons. One, the lack of value that goaltenders carry. And two, he struggled (relative to expectations) this season. It doesn't help that he essentially has to allow two or less goals every single game for Nashville to have a chance to win, but Rinne wasn't his elite self in 2013. And after the regular season ended, we found out why.
Interesting stat alert – Rinne's even strength save percentage in 2013 was .927, only .001 worse than his mark one season ago. And there is only one other NHL goaltender with the ability to 'Hasek' an opposing team (to 'Hasek' someone is to get inside their head completely), and he is the King of New York. Rinne is 6-5 and looks like a giant Finnish octopus in goal. He could probably play shortstop for most MLB teams, too.
The difference a summer makes
A new trainer and a new linemate
34. Matt Duchene (not ranked)
Pavel Bure was my favourite hockey player growing up. We may never see another Bure (the ability to generate offense completely from speed and acceleration). Alex Ovechkin is probably the most dangerous one-on-one player in hockey, but he uses his brawn more than pure speed. Gaborik is another contender, but he is more graceful, whereas Bure would chew up the ice with his powerful skating stride.
Why am I going on and on about Bure? Because I see aspects of his game in Duchene's. Duchene had a subpar 2011-12 season – he had lingering injury issues that affected his skating, and his skating sets the table for the rest of his game. Through his agent, he got hooked up with guru trainer Andy O'Brien (who has trained Crosby for the past decade) last summer, and the results in Duchene's game were immediate. He was a lone bright spot on an awful Colorado squad, scoring 17 goals in 47 games.
Watch this and tell me you don't see any Bure here:
33. Ryan McDonagh (not ranked)
I find it quite odd that one of the best defensemen in the NHL, who just so happens to play in one of the biggest markets in the NHL, doesn't get much national media attention. McDonagh has the talent and offensive skill to be a 50+ point defenseman, but his value to the Rangers comes primarily from what he does in the defensive zone. He's big, smart, physical when necessary, and he rarely makes mistakes. He also has the ability that all true great defenseman possess – to put outlet passes on the tape of teammates, regardless of how much forechecking pressure is thrown his way. Also known as 'puck poise.'
He will win a Norris or two by the time his career is over. Unfortunately for New York, his rookie contract expires this summer. They will likely want to delay McDonagh's big payday by two or three years.
The workhorses
Two hockey players who can do it all
32. Logan Couture (not ranked) 
31. Patrice Bergeron (not ranked… I know)
Couture and Bergeron are two of the best forwards in hockey. Despite the fact that they play hundreds of miles apart, their games are almost identical. They both excel on the penalty kill and can also play the point or up front on the power play. They are also both fantastic in the faceoff circle. Natural leaders. Quiet. Understated. But willing to do anything to win.
Couture has taken over from Joe Thornton as San Jose's go-to player, whereas Bergeron has always been Boston's. He doesn't get the attention of a few of his taller or more physical teammates, but he is the backbone of a very strong hockey club. Couture absolutely thrashed the Canucks in the first round of the postseason this year. It was a breakout of sorts, but he had arrived as an NHL star already. He will play his way onto the Sochi Olympic team, as his versatility will come in handy on a team full of superstars.
And if I am picking one center to play a seven game series with, there aren't many I'd take over Bergeron. Crosby, sure. Anze Kopitar as well. After that, you could make the argument for Bergeron against any other NHL center. The only strike against him is the fact that he is a UFA after the 2013-14 season. He won't be a $5 million player for much longer.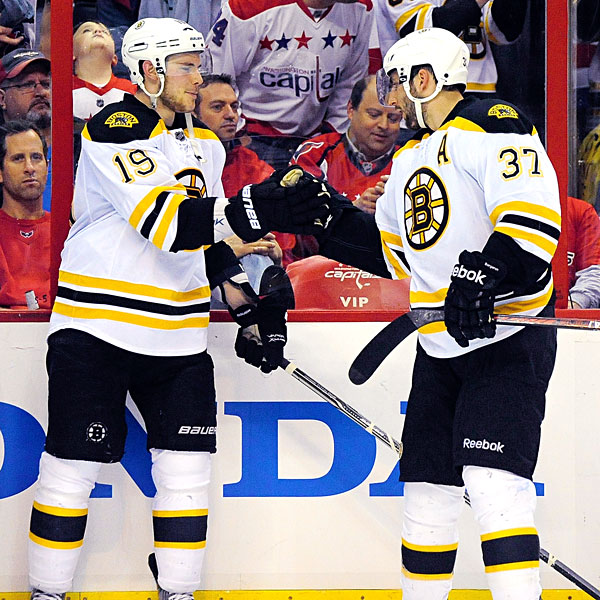 30. Tyler Seguin (23)
After spending the lockout dominating the top league in Switzerland, Seguin was expected to come back to the NHL and keep up his torrid offensive pace. He never really found his groove in 2013 (although 16 goals and 32 points is still solid production), and he has struggled in the postseason. With his size, speed, and puck skill, he should be a factor in every game he suits up for. Consistency is lacking right now (a common trait among young players). It will come in due time, but the Hall or Seguin debate has been firmly answered at this point. And the Oilers picked right.
Seguin was given a massive six year contract extension by Boston last summer. Now it's time for him to earn it.
Bust-proof
Too good to not live up to the hype, right?
29. Ryan Nugent-Hopkins (20) 
Nugent-Hopkins underwent shoulder surgery after playing through pain for most of 2013 (and from the sounds of it, the past few years). Should the Oilers have recommended surgery last summer? Yeah, probably. Was the injury caused by him getting rushed to the NHL? Probably not, but he was knocked around a bit, as you would expect from any 170 pound teenager.
He's too smart and too skilled to not develop into a star, but the Oilers have done a less-than-spectacular job with his development. Instead of insulating him with other talented centers, they assumed and expected he would be ready to center the first line this season. And he wasn't.
Living up to expectations
Big money, big results
28. Zach Parise (28)
Signing bonuses aside, $7.5 million is a very fair amount to pay for a top line winger. Parise's play in 2013 was as advertised – tenacious, gritty, and consistent. He played a huge part in guiding the Wild back into the postseason. However, Minnesota learned that they were and are further than just a top line winger and stud defenseman away from Stanley Cup contention. Good thing they have a ridiculously deep prospect pool.
27. Ryan Suter (29)
Suter somehow lived up to the insane expectations that were placed on him this past season. Along with the best rookie in hockey, he anchored a very shallow defensive group in Minnesota. Suter and Jonas Brodin logged heavy minutes against the opposition's top scoring units, and they usually won those matchups. Suter is a prototypical number one defenseman – he plays a ton, he's reliable defensively, and he can run a power play and rush the puck up the ice.
Suter missed Shea Weber a lot less than Weber missed Suter (due in large part to Brodin's surprising emergence).
The franchise
Hockey's most storied franchise is building around him, for better or worse
26. Carey Price (18) 
Did I curse Price by ranking him as the best goalie to own in fantasy hockey a few months ago? He struggled during the final month of the regular season, and he wasn't very good in the first round against Ottawa before injuring his groin. However, I think the body of work from the past few seasons paints a more accurate picture of what kind of goalie he is.
Price has the right personality to build a franchise around. He is extremely self confident. That is a requirement for any goaltender, especially one playing in Montreal. He is big, athletic, and very fluid in between the pipes. He turns 26 this summer, and the best is yet to come. He is still maturing and figuring himself out, and the Canadiens are a team – and an organization – headed in the right direction.
Youthful exuberance
What will he do for an encore?
25. Nail Yakupov (45)
Yakupov led all NHL rookies with 17 goals. And he celebrated each one like it was his last. Many times rookies hit a wall (figuratively) during the NHL season, but Yakupov saved his best hockey for April – he scored 11 goals and was a plus-7 (plus/minus is far from an accurate way to evaluate a player's two-way play… but this is Edmonton we are talking about) during Edmonton's final 14 games of the season. And he has two more years left on his rookie contract.
24. Alex Pietrangelo (14)
The pairing of Pietrangelo and Jay Bouwmeester is without question the most mobile defensive duo in hockey. Both defensemen are well over six feet tall and north of 200 pounds, but you wouldn't know it by how well they skate – with and without the puck. Pietrangelo is a future franchise defenseman, and he is also a great example of why patience is a virtue when it comes to developing defensemen.
The Blues left him in junior hockey for two years after selecting him in the 2008 draft (even though he was picked fourth overall). Pietrangelo's emergence in his first year as a pro (11 goals and 43 points) show why they made the right call. His offensive game has continues to evolve, but his value comes from the fact that he's a minute-eating defenseman and that he is an offensve threat every time on the ice.
Pietrangelo is an RFA this summer. Do the Blues give him a big money, long term deal? Or do they try and get him to ink a one or two year deal, delaying the inevitable (lots of $$$)?
Rebounding nicely
New coach making a difference

23. Nicklas Backstrom (27)
In 2009-10, Backstrom scored 33 goals and finished with 101 points. He was only 22 at the time, and many in the hockey world were putting him in the conversation for the best center in hockey (not named Crosby). Backstrom, like most of Washington's offensive stars, regressed from 2010 to 2013. He wasn't comfortable playing for Dale Hunter, and he struggled to change his game from offense and puck possession to defense, dump-and-chase, and low percentage hockey.
The Adam Oates impact in Washington wasn't immediate. The Capitals sputtered out of the gate this season, and wholesale changes were rumoured to be on the way. But they stuck with the plan, and Backstrom, Ovechkin, and Mike Green (these three in particular) proved Oates right. You can win with offensive hockey in Washington. It's too bad that it took them three years to figure it out.
The next great power forward
His game just needs a bit more maturing – both on and off the ice
22. Evander Kane (20)
Kane got in some hot water during the lockout for a perceived lack of matury – both on the ice and off of it. The fans in Winnipeg have been quick to warm up to him, but the media… not so much. Kane probably has some maturing to do away from the rink, but his game on the ice is all business. He scored 30 goals in 2011-12 as a 20-year-old, and he's going to approach 40 as a 22 year old in 2013-14. He loves to shoot the puck, he plays well away from the puck (a testament to Don Hay and the coaching Kane received while in the WHL with Vancouver), and he is really, really strong on the puck.
Proving the doubters wrong
Getzlaf takes a mulligan on 2011-12, and is rewarded handsomely
21. Ryan Getzlaf (30) 
The only thing separating Getzlaf from the top 10 on this list is consistency. Well, there are probably two things. With his new contract, he is paid to be one of the top two or three centers in the game. On many nights, he is exactly that. However, was his horrendous 2011-12 season a complete mirage? Getzlaf has had his work ethic called into question since his days in the WHL with the Calgary Hitmen. He has the hands of a playmaker in the body of a power forward.
The Ducks made a huge investment in Getzlaf the good – to the tune of eight more years and $66 million. With Getzlaf, you may not get an $8 million player every night. But in 2013 (and in previous seasons) he found a way to dominate almost every time he stepped on the ice. And you can't ask for much more than that.
20. Patrick Kane (26)
Hockey's version of the human highlight reel.
The best dangler in hockey has found another gear in 2013. His progression shouldn't come as a surprise, as he was able to not only survive, but thrive, as a 165 pound teenager in the NHL. Kane is sublimely talented – if you ever want to explain hockey sense to someone who doesn't know the sport well, show them Kane's highlight reel. He is almost impossible to hit, and he's one of the best playmakers in hockey.
His current contract is a bargain, and there are two more years left on it (his cap hit is $6.3 million annually). The part about Kane that many love (and some hate) – he knows how good he is. He'll dangle through an entire defensive group and then celebrate accordingly. He took a little while to figure out the whole maturity thing (avoiding people with camera phones was a great start), but part of what makes Kane so great is his flair, his brash personality, and his cockiness. Like another former Blackhawk great, he backs it up with his play.
19. Zdeno Chara (9)
Chara turned 36 this past year, but you wouldn't know it with how the Bruins deploy him. He plays in every situation – power play, penalty kill, and at even strength. He's on the ice whenever the opposition's top line hops over the boards. He's cerebral and crafty with a wingspan of seven feet (plus the length of a hockey stick). He's also menacing, aggressive, and plain old scary to venture into the corner with. Chara is a great leader and teammate, too.
Chara is one of the most dominant forces in hockey, and because of his incredible discipline and dedication to fitness and health, that won't be changing any time soon.
The King still reigns
The best goalie in hockey holds the throne
18. Henrik Lundqvist (7)
I don't really need to change much from last year's entry:
The best goalie in the league has been the backbone in New York for the past seven eight seasons. He won his first Vezina in 2012 after being nominated on three previous occasions. He backstopped Sweden to a gold medal back in 2006. He has been the Rangers MVP for the past six seven seasons, and is a three-time All-Star. He bails out the Rangers defense when they make mistakes, and he does so with incredible consistency. Goaltenders come and go from year to year, and Lundqvist's ability to deliver an elite level of play on almost every night makes him an extremely rare commodity.

Not much else needs to be said. He's the best goaltender in the league and it isn't really close.
Dealing with Big D expectations
The face of the franchise is now paid like it
17. Jamie Benn (22)
On January 24th, 2013, the Jamie Benn era officially began for the Stars. He inked a five-year contract worth $5.25 million per season, officially taking his place as the face of the franchise. Some may be surprised to see Benn so high on this list. I won't hide any biases – I have been a huge Benn fan after seeing him play in the WHL. He was far from a highly-touted prospect – in fact, I was at the game to get a look at a few of his Kelonwa teammates (Tyler Myers and Luke Schenn).
But on that night, Benn was the best player on the ice for either team – by far. He had the best shot in junior hockey during his time there, and his late development shows just how scouting is still very much art over science. Benn is one of the best young forwards in hockey. His numbers weren't amazing in 2013, but the Stars traded away most of his scoring support, and he played the final six weeks of the season with a wrist injury. For a guy who relies on his wrist shot for a lot of his goals, that's a tough injury to play through.
If I haven't managed to convince you how good Benn is (and how much better he is going to get), wait another year or two. His time is coming.
16. Corey Perry (12)
After the Ducks inked Getzlaf to a new contract, the speculation immediately shifted to Perry. Would he stay in Anaheim? Would the Ducks be able to afford him? Would he test the open market? With the new restriction on contract length (seven years for free agents and eight for players who re-sign with the same club), Perry could have potentially been the first max contract player in the salary cap era.
However, he chose to stay in Anaheim, dashing the dreams of many in Leafs Nation. Hey may not score 50 goals in a season again, but Perry is a reliable player in terms of effort and what he brings to the table. He's one of the more annoying players to play against, and he isn't on the Christmas card list for any referees, either. But he's big, skilled, gritty, and consistent. He brings it every night, and he needs to continue doing it if he wants to live up to the lofty expectations that come with a big money extension.
Taking the leap to stardom
A dominant season quickly quieted his detractors
15. PK Subban (31) 
Subban returned to the Montreal lockeroom in late January with his tail between his legs. His short-lived contract holdout failed to generate the long term contract he and his agent were asking for. Instead, the Canadiens gave Subban a "prove your worth" two-year deal. Subban, to his credit, mended any bridges that needed mending with his coaches and/or teammates. And it didn't take long for him to show why he has been such an electric and dynamic player ever since he entered the OHL as a teenager.
Subban had a phenomenal 2011-12 season, but it was largely overlooked because he didn't post eye-popping numbers (instead, he worked on his defense). In 2013, his strong defense continued, but the offense came along for the ride. If you project his numbers over a full 82-game season,you end up with 25 goals, 75 points, 112 PIM, and 247 shots on goal.
The best defenseman in hockey?
Big contract, new partner, huge expectations
14. Shea Weber (8)
Losing Suter hurt Weber more than most people had expected. The rugged two-way defenseman needed 14 games in 2013 before he found the back of the net, and his defensive game suffered a bit, too. His new partner, young Swiss defenseman Roman Josi, is a talented hockey player, but he has a long way to go if he ever hopes to reach Suter's calibre.
For the money he is paid, Weber needs to find a way to truck on without his long-time compatriot. And, to his credit, he finished 2013 a lot better than how he started it. In 48 games, he ended up scoring nine goals while finishing with 28 points. Over an 82 game season, that's 15 goals and 48 points. His production from 2010-11 and 2011-12, respectively – 16 goals/48 points, and 19 goals/49 points. Consistency with a capital C.
Lidstrom 2.0
Poised, talented, and Swedish – a winning combination
13. Oliver Ekman-Larsson (32)
For such a safe and reliable hockey player, Ekman-Larsson must like living on the edge away from the rink – why else would he extend with Phoenix for five more years ($5.5 million per – quite the bargain for the NHL/Coyotes) without knowing where he will be playing them? Phoenix? Quebec City? Kansas City? Vegas? At least we can rule out Seattle for now thanks to David Stern. Wherever Ekman-Larsson plays, he will continue to play a ton of quality minutes. He does everything at an elite level, and that allows the Coyotes to free up their other defensemen for more prime scoring opportunities (and less tough defensive assignments).
And how many shutdown defensemen can skate like this?
The third wheel
Crosby and Malkin get the attention, but he drives the attack
12. Kris Letang (16) 
Letang's inability to stay healthy is more of a testament to his playing style (aggressive, fearless) than any underlying health issues. He is one of the strongest guys in the league pound-for-pound, and he trains in Montreal during the summers with elite MMA fighters (including the UFC's Rory McDonald). Letang controls games with his passing, his skating, and his booming point shot.
He uses his stick and body well to angle opposing forwards, as they all tend to have a few inches and pounds on him. But even if he gets caught in the trenches, he more often than not emerges with the puck. You can't teach work ethic, but some NHL teams forgot that on draft day back in 2005 (Letang went 62nd).
11. Drew Doughty (13)
Doughty is the best two-way defenseman in hockey. He may not be as physically dominant as Weber or Chara, and he isn't as offensively gifted as Karlsson. But he combines offense and defense better than any of his peers. He's big and strong, and he can skate miles (and he does on most nights). He's the backbone of the Kings, and he has developed into their shutdown defenseman (which has been vital to their success this season in particular without Matt Greene and Willie Mitchell).
Going by the numbers alone, Doughty doesn't get the praise he used to. He scored 16 goals and had 59 points as a 20-year-old in 2009-10. Since that season, he hasn't broken the 40-point mark. Why? He didn't become any less talented, but the Kings shifted his role from one of an offensive focus to one of a defensive focus. He matches up against opposing stars every night, and he usually comes out on top. Oh, and he's under contract for six more years.
Captain Claude
Not the best player in the world, but he's up there

10. Claude Giroux (6) 
Thanks to Crosby's concussion and Ovechkin's subpar play, there was a brief time in 2011-12 where Giroux was in the argument for "best hockey player on the planet." He's not there any more, though. Giroux is a well-rounded player who has terrific hands and elite vision and offensive instincts, and he will make a great captain in Philadelphia, as well.
His current contract ($3.75 million per) is a bargain, and runs through next season. After that, the Flyers still have control over him. Expect a long term contract with a lot of digits in the total.
Giroux's annual "deke the goaltender out of his jock" goal:

 Second fiddle
Will he eventually want to set out on his own?
9. Evgeni Malkin (2)
When Evgeni Malkin is on, there's no better hockey player on Earth.

— Justin Bourne (@jtbourne) May 20, 2013
Malkin is far better than the ninth best hockey player in the world, but this is a ranking of trade value and not overall playing ability. He has only one year left on his current contract (the Sidney Crosby special – $8.7 million per) before he becomes a UFA. If Malkin wanted a $10 or $11 million contract, he'd get it. Heck, he could probably ask for even more.
Will the Penguins pay him more than Crosby, who signed a lifetime contract (with the same $8.7 million cap hit) last summer? Crosby's extension put Malkin in a bad place. If he asks for more money (his right), he looks greedy. Crosby took a ridiculous discount to stay in Pittsburgh. Will Malkin?
Unstoppable
The most physically dominant center in hockey
8. Anze Kopitar (10) 
Kopitar is arguably the best defensive center in hockey, and he's one of the best offensive centers in hockey, too. He has three more years left on his current contract, and you can bet that the Kings will do everything they can to get him locked up for the rest of his career.
I still remember sitting down to watch the 2005 NHL Draft at a friend's house. Kopitar was the best European forward available, and he was expected to go anywhere from three to six. After Columbus picked Gilbert Brule at six, it was only a matter of time before Kopitar heard his name called. Right? Chicago took Jack Skille, San Jose took Devin Setoguchi, Ottawa took Brian Lee, and Vancouver took Luc Bourdon (RIP). Kopitar slipped to 10 because, well… teams didn't know what to expect from a hockey player from Slovenia. Whoops.
He's baaaack
Now let's see it over 82 games
7. Alexander Ovechkin (4)

You could make the argument that Ovechkin is too low on this list. If Washington calls up Ottawa and offers him for Karlsson, what do the Senators say? They probably think about it, at the very least. If Ottawa called up Washington and offered the same trade, George McPhee would reject the deal instantly. Ovechkin is the player the Capitals have built their team and franchise around. He is much more than just a hockey player.
That all being said, many want to see Ovechkin carry his 2013 play over into a full regular season before officially proclaiming him as "back." As good as he was from 2006 to 2010, he has floated through the past years with indifferent play. He's locked up for the rest of his career ($9.5 million per season). When he plays like he did this past season, he is worth every penny. He's a player you can build a franchise around. But when he plays like 2010-12 Ovechkin, he's overpaid by about $3 million. And every cap dollar matters.
The bionic (defense)man
A sliced Achilles couldn't even slow down this slick Swede
6. Erik Karlsson (15)
You often hear about professional athletes who are able to control the pace of a game. Tony Parker is a great example of this in the NBA. He is quick, shifty, and elusive, and it keeps opposing guards on their toes. Karlsson is very much the same for the Senators. He plays defense like a point guard in basketball – directing traffic, picking out weaknesses in the opposition's defensive scheme, and driving the puck towards the goal when he senses an opening.
He is amongst the best NHL skaters in terms of his edge work – Karlsson can spin, stop, and change directions on a dime. And he's locked up for the next six seasons.
The cornerstone
Edmonton will build their team around this future 50-goal scorer
It took a few years, but we now know who the best young player in Edmonton is. Hall generates scoring chances at a ridiculous rate, and he is learning to avoid dangerous situations on the ice (in the past, his reckless style of play has led to injury on more than one occasion). Hall can bull past opposing defensemen with his power, speed, and strength, or he can dangle around them with his stickhandling.
The Oilers have him under control for seven more years (at $6 million per). If he isn't a bargain yet, he will soon be one. Only Ovechkin and Stamkos can rival Hall's powerful skating in the open ice. And he doesn't even turn 22 until this fall. The Oilers couldn't screw up his development even if they tried.
The cream of the crop
The best player on arguably the best team in hockey
4.  Jonathan Toews (11) 
The Anaheim Ducks had Perry and Getzlaf under very cap-friendly contracts for a number of years, and it allowed them to spend cap dollars elsewhere. However, they were forced to pony up this past season. Chicago faces a similar predicament with Toews and Kane. They each have two years remaining on their respective contracts ($6.3 million cap hits for each), and the Blackhawks are going to have to start building a war chest if they want to keep both of them beyond the 2014-15 season.
Toews is a phenomenal hockey player. There isn't much I can write about him that you don't already know. He's a leader, a fantastic defensive forward, arguably the best faceoff man in the league, and he has the skill to routinely embarrass opposing defensemen.
Unstoppable
Consistently finding new ways to score goals
3. Steven Stamkos (3) 
The Lightning have Stamkos under control for three more seasons (at $7.5 million per) before he becomes a UFA. He's going to command a maximum contract if he so chooses, and he'd probably be worth it in terms of his overall organizational impact (ticket and merchandise sales, excitement around the team, and of course, the ability to score a lot of goals).
Stamkos may have 600 goals before he turns 30 years old. He isn't just a one-trick pony, as he uses his powerful skating stride to create separation for himself and open ice for his linemates. And his play away from the puck is improving a lot, too.
Putting in work
His year-to-year improvements have been incredible
2. John Tavares (5)
Wait… what?
Tavares moves ahead of the most dangerous forward in hockey (Ovechkin), the best goal scorer in hockey (Stamkos), and at times, the best player in hockey (Malkin)? Yes. Let me tell you why.
For one, he has an amazing contract. He has established himself as a franchise level talent. He makes $5.5 million per season for five more. He'll have a few 50 goal seasons under his belt by that point in time. But more importantly, Tavares' work ethic is what separates him from the rest of the pack. Tavares came into the NHL as a promising – but raw – young player. His hands, shot, and passing were already elite, but he wasn't a great skater, and his play away from the puck needed some work.
And work he did. Tavares has improved significantly each year. He adds a new dimension to his game. He's more physical than he used to be. He has naturally grown into a leadership role for the Islanders.
Who else?
1. Sidney Crosby (1) 
The best player in hockey. It isn't debatable. We haven't learned anything new about Crosby that we didn't already know last year (except for the fact that he isn't the sole reason Pascal Dupuis can put up points). He missed time again in 2013 due to injury, but this time it was of the fluke variety (fluke, or the fact that Brooks Orpik can't aim his slap shot). When he was healthy in 2013, he was on pace for a Gretzky/Lemieux type of season.
Crosby is a leader, he draws fans, he wins, and he commands the respect of everyone outside of the city of Philadelphia. His best attribute isn't his strength, his speed, or his shot. It's his vision. His spatial awareness is incredible. If and when he can actually remain healthy for 82 games, he is going to approach 150 points.