The Prime Cuts column is back. Read on for 15 quick hits/thoughts related to the game of hockey. This month, I take a look at Tomas Hertl, the struggling Rangers, the surprising Maple Leafs, and much more.
1. It is much too early to claim vindication of any kind, but it is great to see Mathieu Perreault finally being given a shot to play regular minutes in a top-six role. You can't really fault the Capitals too much for his handling over the past few years, as his game did seem to fade a bit each time he was called up, but it looks like the Ducks are going to give him a really long look as their number two center. Perreault is a great skater and a really smart player, and his skill-set is obviously indicative of a player who should be on the ice in offensive situations.
2. Who saw the quick start from Tomas Hertl coming? I am not one to toot my own horn, as I have made by fair share (and probably more) of bad calls and missed projections over the past few years, but I felt that Hertl had a huge opportunity to succeed this season for two primary reasons: 1) he has experience playing men's hockey in the Czech Republic, and 2) the Sharks are masterful at player development and putting their young players in the right situation to succeed.
Oh, and for those of you in fantasy pools, now is indeed the time to sell high on Mr. Hertl (but you probably didn't need me to tell you that).
3. Jacob Trouba, my top fantasy prospect defenseman from back in April, is off to a stellar rookie campaign in the NHL. He is already being leaned on heavily in key situations by the Jets coaching staff, and he doesn't even turn 20 years old until 2014.
4. This season is my first experience with NHL GameCenter. So far, so good. Some games have been a bit choppy, but it is awesome to get the "Quad Box" going (a reference to the NFL Redzone with four games on the screen at one time), and it is also great to be able to choose which announcer to listen to (i.e. not Jack Edwards).
With that in mind – any announcers out there that I need to pay particular attention to? I enjoy the Dallas duo immensely.
5. Small sample sizes usually often lead to a lot of randomness at the top of the various scoring races early on in the season, but not in the shots on goal category. The top five producers are all consistent shot-producing players (Ovechkin, Parise, Zetterberg, Kessel, and Evander Kane). More shots = more goals, and these five are all fantastic goal scorers, too. I'm not really sure if there is a point to this, but I found it kind of interesting that the cream is already rising to the top very early on in 2013-14.
6. Are the Buffalo Sabres aware that they also can't tank for Andrew Wiggins?
7. Is this mask a beauty or what? #DucksFlyTogether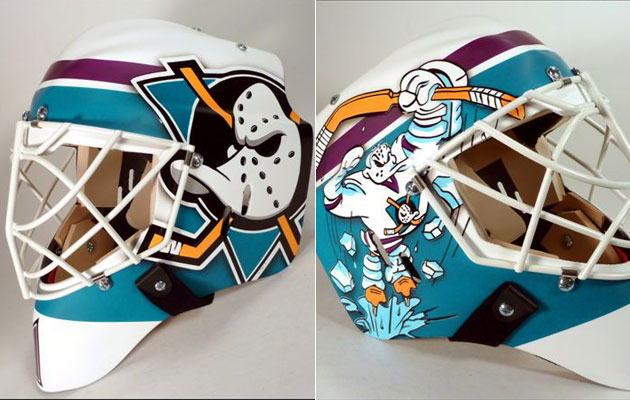 8. The USHL is rethinking fighting in their games after a very scary incident at a recent game.
I'm not sure where my opinion lies on the fighting-in-hockey spectrum. On one side, I do wonder what would happen to the star players if fighting was removed from the game (and for those who say that the league would just hand down stiffer punishments, the NHL has proven itself to be extremely inconsistent in this capacity), but I also know that I would still be a huge hockey fan and a proponent of the sport if there was no fighting involved.
After all, it is called hockey, not fighting.
9. I am looking forward to attending the Sloan Sports Analytics Conference at MIT this coming February. There is still a lot of room for growth with statistics in hockey, and one guy who is putting in some great work in the field is SBNation's Eric T. Here is his latest on forecasting goaltenders.
A save percentage of .920 is a top-ten performance, while .910 would be nothing more than a good backup. But the difference between the two is just one save every 100 shots. That's an awfully narrow margin, and it takes an awfully large sample size to reliably identify differences that small. Much larger than you might expect — several thousand shots, and even more if you want finer distinctions than top-ten versus good backup.
10. Pavel Datsyuk is really, really good.
11. The Oilers have a new coach and a new GM, but they still can't keep the puck out of their own net. And they haven't gotten much in the way of help from Nail Yakupov (to his defense, it is hard to help all that much from the press box). I'm not really a big fan of this quote, but Yakupov isn't a native English speaker and things often get lost in translation (or with word choice):
"I'm going to play my game. I'm not going to change but maybe play better without the puck, or forecheck more, but I love playing with the puck. I really don't like skating all the time, and forechecking, and hitting somebody every shift. I don't think it's my game."
Is there a quick fix available for the Oilers?
I'm not sure, and it is still really early in the season. I think Craig MacTavish is a really smart guy, and Dallas Eakins is a very good coach. But is Devan Dubnyk a starting goaltender? Many (myself included) thought that Edmonton was in good goaltending shape heading into the season, but the Oilers did pursue Cory Schneider aggressively in the summer before he was shipped off to the Devils. Perhaps there are some within the organization who aren't as optimistic about Dubnyk's upside?
The future needs to be now for the Oilers – they can't sell the future any more to the fans (or sponsors). If the struggles continue into November, I'd expect to see some heads rolling out of town (and not of the GM or coach variety).
12. For those of you who wonder what the benefits of having a goaltending coach are, look at Semyon Varlamov. Talent and ability have never been in question with regards to the young Russian goalie, but technique and consistency have.
My good friend and NHL.com writer Justin Goldman knows goaltenders better than most. I'd recommend following along with his weekly 'In the Cage' goaltending column. On Varlamov:
At first glance, this turnaround may seem like a major surprise. But considering that he spent a big chunk of his summer working with legendary goalie coach Francois Allaire, the improved play was nothing short of a guarantee. Known for enhancing the skills of goalies like Jean-Sebastien Giguere, Jonas Hiller and Ilya Bryzgalov, Allaire's latest pupil already is showing major signs of improvement.

Not only does Varlamov look more economical with his athletic butterfly movements and recoveries, but he's benefitting from some system changes that already has Colorado playing more consistently in all three zones. The defense remains very much a work in progress, but their perfect penalty killing (seven-for-seven) is a good early sign. They have also allowed fewer than 10 shots in four of nine regulation periods.
13. The Canucks have gotten off to a bit of an uneven start in 2013-14. I haven't been following the team as closely as I have over the past few years (I have only watched two of the games and seen sporadic highlights from the rest of the games), but I'm not really surprised. This isn't the elite team that came within one game of the Stanley Cup two years ago.
The Canucks are much thinner up front, and they are currently getting 2011-2013 Ryan Kesler instead of 2009-2011 Ryan Kesler. When Kesler is at his best, he gives the Canucks two number one centers capable of dominating in very different ways. When he isn't, the Canucks rely too heavily on Daniel and Henrik for offense.
They should still be a postseason team comfortably, as they do have an elite goaltender and a very strong defensive group. But they need to find a way to get Kesler (or someone else on line two) going.
14. Great to see the best player in the game at his very best. Hopefully he can stay healthy for 82+ games this season:
15.  Hockey is a team sport, right? Great passing here (and those new Wild uniforms are pretty slick):
I won't have the time for as much hockey content this year, but please comment below with what you would like to read (top 10 lists, Prime Cuts, and so on). I'll do my best to share my thoughts.